November 30, 2020
The Lakers have already had a massive offseason, but things could get even more interesting. Anthony Davis has yet to re-sign with the Lakers. It's not because he's looking elsewhere, and it's not because he's still eating Thanksgiving leftovers. It's because he's waiting to see if Giannis signs an extension with the Bucks. If Giannis doesn't he becomes a free agent next summer, setting up a scenario where Lebron and AD could take less money for a year so the Lakers could sign The Greak Freak. Meanwhile, the Lakers re-signed Giannis' little brother, Kostas, while the Bucks are hanging in the balance with the super max offer sitting on the table for their franchise player. That's just mean, and borderline trolling. More than anything though, I would love to hear all the complaining from other teams and the media if Giannis became a Laker. The league just spent the last 7 years slandering the Laker organization, not just about their performance on the floor, but their competence as an organization. It turns out it was all baseless, so nothing would give me more pleasure than to stick it back to all these people.
As for the Clippers, the reality of it is, they have lost talent, and lost depth this offseason. Signing Nic Batum would have been an amazing move 5 years ago. That has prompted many executives around the league to believe that they could trade Ivica Zubac, Lou Williams, or Pat Beverley for a point guard. Those might be the Clips most valuable trade assets, but what it could bring them back would be nothing more than shuffling chairs on the deck of the Titanic. The Clippers need a playmaking point guard. The players available might be George Hill, Lonzo Ball, or Terry Rozier. None of them give them what the team really needs: elite facilitating for others. A trade would simply be made more so for the purposes of changing the culture of the locker room. Perhaps it's simply that the Clippers don't want Lemon Pepper Chicken Wings as part of the culture.
Just when you think the Rams might actually be an elite team, they blow a huge opportunity against the 49ers. Jared Goff looks like Johnny Unitas against every NFC West team except the 49ers. The offense was so inept yesterday, the Rams had a better chance of scoring with Nick Mullens on the field, than with their own offense. That's right people. The Rams just lost to a quarterback that looks as weird as the goblins from Harry Potter. I'm beginning to think Goff would play better more consistently if he went home to an ugly girlfriend. It wasn't all Goff's fault though because the running game has also been pretty non-existent in the last couple of games. Stupid penalty by Jalen Ramsey as well to cost the Rams an extra 5 yards, which made a difference on that game-winning kick. The bottom line is that the Rams look like a playoff team, but they are just as flawed as many of the other playoff teams in the NFC right now. That makes the entire NFC playoff picture a crap shoot for everybody.
Meanwhile, the Chargers lost to the Bills to fall to 3-8. The Bills are a much better team than the Bolts at this point, but it doesn't make any of the things we saw any less disappointing. Anthony Lynn is now coaching not to lose, rather than coaching to win, which we saw with his poor clock management at the end of the first half. Even more bizarre was the play calling in the last minute, rushing the ball multiple times without any timeouts. The offense could be even better if they played in a much more uptempo mode as well, which would keep the opposing defense off balance. Joey Bosa single handedly tried to keep the defense competitive yesterday, but he needs more help and health on that side of the ball. Their uniforms were also not nearly as cool as the powder blue, and look like some sort of unlicensed knockoff you'd find in a clearance bin on Figueroa.
Elsewhere around Week 12, hope you enjoy turnovers for Thanksgiving, because the Lions brought plenty of them on T-Day, and it got Matt Patricia fired after losing to the Texans. I'm thankful the Cowboys give me the opportunity to make fun of them ever year on Thanksgiving with their often disastrous play, and this year was no exception in their blowout loss to Washington. The Saints should have let the Broncos borrow Jameis Winston since they didn't want to use him in their win against Denver. The Browns beat the Jags, but Baker Mayfield still has more commercials than touchdown passes. The Falcons beat up the Raiders, and the Vegas fans must feel like they are in an abusive relationship with all their ups and downs. The Giants beat the Bengals and are now in 1st place in the NFC East, which makes them the tallest person in a land of midgets. Nick Folk is more reliable than a tweet from Woj, as he gave the Pats a win over the Cardinals. Adam Gase and the Jets scored scored 3 points in 2 games against the Dolphins, as Miami beat up on on New York again. Derrick Henry is a human bulldozer, and the Titans smashed the Colts. Kirk Cousins is thankful nobody will make fun of him this week in the Vikings win over Carolina.
Did the USC football players go out for a fun night at the Nine-O followed by some drunk food at Huerto's? That must explain how all their scholarship players came down with COVID, and their game against Colorado got cancelled. God forbid that USC take the field without having any scholarship players available. As if their walk-ons aren't worth a crap. I find cancelling that game an extreme disservice to those walk-ons that worked hard to earn a spot on the team. I would argue that USC should still be able to beat Colorado with those players. Well, maybe they would if they were coached by anybody other than Clay Helton. Helton is probably just stoked that another week is going by where he can't actually be fired. Helton isn't immune from COVID. However, he seems to be immune from being bought out at $20 million this year.
As for UCLA Football, I have no idea what to make of them after they beat up on Arizona. The Bruins appear to be better than last year, on defense in particular, but it's not necessarily the Chip Kelly team you thought you would see. More than anything, they have taken advantage of a conference that appears to be softer than tissue paper. Arizona and Cal aren't great, and they nearly beat a vastly overrated Oregon team. With the way this team is playing, they could actually beat USC if and when they play in a couple of weeks. That would be a big deal when it comes to the perceptions of Chip Kelly and Clay Helton. Frankly, Helton is probably hoping the game gets cancelled because of COVID since he has far more to lose than gain in that game.
UCLA Basketball got their season underway last week, and thus far it's been sloppier than a Thursday night on fraternity row. They got beaten up against San Diego State, then needed 3 overtimes to beat Pepperdine. The defense doesn't look quite as sharp as last season, and the offense looks even further behind that. However, I wouldn't panic too much. UCLA looked pretty bad last season up until conference play. Midway through conference play, they looked like they could beat anybody in the country. The team looks like it hasn't been able to practice much together given COVID, and looks like they need that time to gel again. You can see the shot making ability though of Chris Smith and Tyger Campbell, and how good this team could really be once they get themselves in rhythm.
Imagine spending $50 to watch a Youtuber, an ex-NBA player, and 2 senior citizens box. This is what it's come to in 2020 for some of your entertainment needs. I like entertainment and I love Mike Tyson, but the people that paid for that fight on Saturday were the real losers of the evening. Nate Robinson got destroyed. The NBA season hasn't even started yet and the Knicks are already taking losses. That's also the first time we've seen somebody essentially die in the ring since Apollo Creed in Rocky III. Snoop Dog needs to do way more sports commentary. There's a real need for him to just talk smack rather than listen to these polished play-by-play folks and analysts all the time. I realize this was just an exhibition, but the judges really blew it. Tyson won that fight and deserved better, hands down.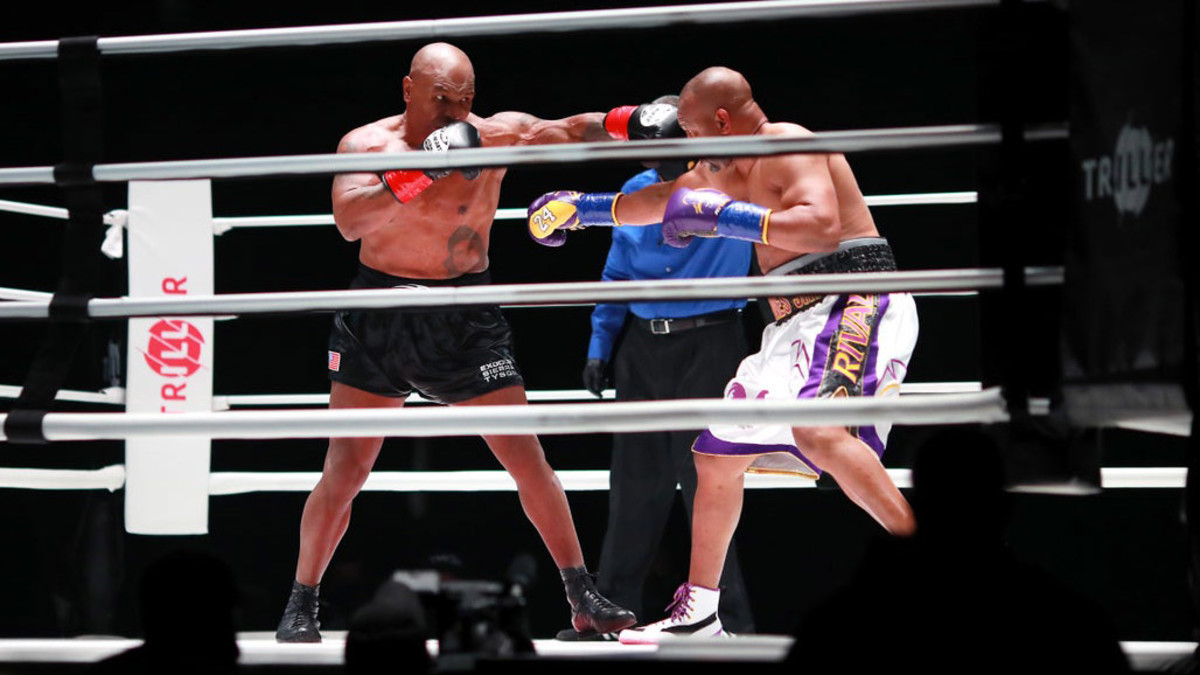 Finally, the Bachelorette went down last week and it's back again tomorrow night on ABC. Suddenly everybody likes Ivan for Tayshia. Except nobody knew who Ivan was until last week. Chris Harrison must be ready to hang himself after dealing with all that Clare nonsense, and then having to hang out with Ed at 2:00 am. It's almost like the producers did that just to troll him. Honestly, if Tayshia weren't coming in the middle of a season with one of the worst Bachelorette's ever, you might actually give her more serious consideration for the best Bachelorette ever. Meanwhile, there's already rumors surfacing of Clare and Dale not even living on the same coasts, and talk that he was flirting with some girl outside a New York Bar. This relationship sounds like it's going to last about as long as my first girlfriend, who I dated for 2 hours before math class in 6th grade. I'm still shocked nobody is talking about how big that bowl of ice cream was!