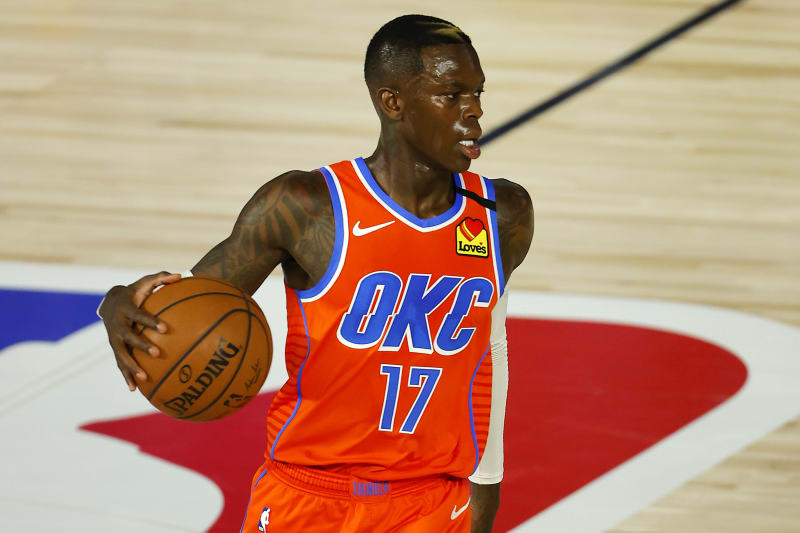 November 16, 2020
I love how NBA GM's are complaining they don't even know the rules and dates when they are allowed to make trades, yet Rob Pelinka knew and was the first guy to make one this offseason. Pelinka is about to consummate a trade for OKC point guard Dennis Schroeder, in exchange for Danny Green and this year's first round pick. Schroeder is a young, solid playmaker, and improving shooter. He's got a reasonable contract, and fills a big need for the Lakers. It's not splashy like CP3 or even DeMar Derozan, but it's effective, and keeps the Lakers in line to spend lots of money next summer. The bad news is that it looks like they are going to lose Rajon Rondo to a team that is going to overpay for him. I'm sure many Laker fans are hoping they can trade Kyle Kuzma for a Playstation 5 and some games to go along with it. However, I have my doubts his $3.5 million salary is going to bring back a quality player, especially now that Green's salary just went out the door. All of this is hard to judge until you see the finished product, but I think it's safe to say Pelinka has a plan and knows what he's doing.
Meanwhile, I have no idea what the Clippers are up to, but there's a lot of noise coming from them. The latest is the idea that they could trade for Russell Westbrook, and maybe even swap Paul George for him. The idea of adding Westbrook to this team is like lighting a fire, and then trying to put it out by adding lighter fluid. The more interesting part of this story however, is the fact we keep hearing Paul George's name getting thrown around in trade rumors. It came up in a Jrue Holiday trade rumor. Now it's coming up in this Westbrook rumor. In other words, other than Kawhi, there's nobody on the team I see as a certainty to return. Curious to see how this drama plays out.
Another super interesting story related to the NBA that came up is the proposal by Warriors Owner Joe Lacob to try and get fans in NBA arenas. Lacob is proposing something that could actually be a viable option for the event business in general. His proposal is to spend $30 million on rapid COVID-19 testing on game day for every fan in the building. The results of those tests would be reinforced with 50% capacity in the building, and with everyone wearing masks. I applaud the efforts of Lacob for pushing the envelope on this, and trying to be innovative. However, I question whether or not an extremely restrictive state like California will be allow him to do this. I also question whether or not there would be an appetite for the owners of these types of venues to spend $30 million just to fill them to 50% capacity. I hope the man proves me wrong, as it would be wonderful to see, but I think we're looking at 2022 before we might see some normalcy to the event business.
The Angels finally hired a General Manager! Perry Minasian is the new man, and I'm sure you're all feverishly Googling him to figure out just who the hell he is. I was beginning to wondering if the Angels we're about to start interviewing season ticket holders for the vacancy, since it sure didn't seem like too many people wanted the job. Congrats to Minasian who has actually worked in baseball for a long time and deserves a shot, and a man who also has a strong scouting and player development background. I'm just not sure if Arte Moreno has informed him that he will be doing all of the scouting and player development, since he's going to be adding much of a staff underneath him like most owners would. This unfortunately is as good as it was going to get folks. There was never any Dave Dombrowki splashy name that was going to come given the circumstances. Considering Minasian will not have much of a staff, he'll have an owner dictating things to him, and he'll have a manager in place that isn't his guy, if he can succeed he might be one of the greatest ever.
The Rams are tied for 1st place in the NFC West! You've gotta hand it to the defense yesterday, shutting down one of the most explosive offenses in football. Seattle tried to "let Russ cook", and instead he almost burned the kitchen down. The Rams sacked Russell Wilson 6 times, and intercepted him twice. Jalen Ramsey also shutdown D.K. Metcalf, who had just 2 catches for 28 yards. There's a lot of football left to be played, but suddenly you have to feel really good about their chances to win the NFC West. The Seahawks and Cardinals are really good, but they are all about Russell Wilson and Kyler Murray. The Rams have a great defense, they can run the ball, they are well coached, and they have playmakers on the perimeter. I'm suddenly not so concerned about all those NFC East wins. Here comes another trip back east though to face Tom Brady and the Bucs next Monday. This one should be fun.
Meanwhile, the Chargers did their fans a favor and just got dismantled early on by the Dolphins instead of disappointing everyone at the end. The Bolts looked totally overmatched in this one from the start, and this was the first game where Justin Herbert looked pretty ordinary. If the Chargers can't win when he looks like an absolute stud, they have no chance of winning when he's just a guy. The Dolphins are a solid team and even though people might not want to hear this, the injuries are just too much for the Chargers to overcome. You can't lose Joey Bosa, Derwin James, and Mike Pouncey, and expect to win most of your games. Plus the team is losing running backs faster than Donald Trump is losing electoral votes. Say what you will about the disastrous finishes, but if the Chargers don't have their best playmakers at the end of these games, it's going to be hard to come out on the right side of these games.
Elsewhere around Week 10 of the NFL, the Eagles lost to the Giants and the NFC East winner should just donate their playoff spot to a frontline worker this year. The Packers look like they ate too much cheese in their lethargic win over the Jaguars. Chase Young handed the Lions an early Christmas Gift with a late penalty, and a Detroit win. Baker Mayfield wishes it rained hard every week because it actually made him look like a good quarterback in the Browns win over the Texans. The Bucs won and Tom Brady will probably get to eat one extra almond as a reward from Gisele. The Saints won and Jameis Winston got some playing time. I'm sure he celebrated with some of the finest crab legs in New Orleans afterward. DeAndre Hopkins should make that game-winning catch vs Buffalo his Christmas Card and send it Bill O'Brien. Big Ben and the Steelers dismantled the Bengals like they have every game they've played for the last give years.
To College Football where USC beat Arizona, in what proved to be underwhelming again. This must be the worst 2-0 football team in USC football history. What has happened to Graham Harrell's play calling? I can only believe that Clay Helton is involved in it now. The Trojans must be trying to break the record for most checkdowns in a season. This could not be anymore painfully obvious the more we have to endure watching USC play: the have average coaching, and are producing average results. They may not have Matt Leinart or Reggie Bush level talent, but their talent is good enough to dominate the Pac 12 and to compete against some of the better teams in the country. The biggest win for Clay Helton this season is the fact there's less games, and nobody will actually be in attendance to watch how pathetic he is doing. Congratulations for getting the best of 2020 Clay.
Meanwhile, UCLA actually had a great game against Cal. Of course this game happened on an NFL Sunday so nobody got to see it, and in an empty Rose Bowl. I don't know why everybody made such a big deal about having to switch opponents at the last minute due to COVID? Chip Kelly wouldn't have prepared his team a whole lot either way! You've gotta love how the schedule was changed so quickly like it was Sigma Chi playing Kappa Sigma on Thursday night before hitting the bars. Believe it or not, this is the first time that the Bruins have been at .500 in the Chip Kelly era. Credit to the UCLA defense for showing up in this one. We can only hope that come next week against Oregon they look equally as strong, but don't hold your breath.
Congratulations to Dustin Johnson on winning The Masters! DJ was actually proven to be the winner in the state of Georgia, and miraculously no re-count was necessary. The man was dominant as ever, tying the major championship record by shooting -20. I'm not going to say something lame about Paulina Gretzky though and take the focus of his spectacular performance. I'll leave that to Colin Cowherd instead.
Finally, the Bachelorette is going down tonight on ABC, and we saw what we think is the last of Dale and Clare last week. How do we tell Chris Harrison that we just don't give a crap about Dale and Clare when he was interviewing them? I did get a kick of out seeing the look on Dale's face when Clare was talking about having babies with him on live TV. Chris must be in the hospital though with a back injury after having to carry the show this season. The producers must have lost their minds when Tayshia said she can see herself marrying Brendan after two episodes. I'm not sure what the hell is wrong with Jason. Dude is acting like he needs therapy after falling in love with Clare for 5 minutes. Did she even have time to learn this name? Then again he probably decided to go home after he settled for a La Quinta vacation and everybody got served hot dogs and hamburgers after the game of pool basketball. These guys must be livid that they aren't even traveling to good places, let alone getting any good food. Who is managing this shows finances, Bernie Madoff?