July 27, 2022
Let me make this clear. There is no market for Kyrie Irving. Nobody is going to give this guy a max contract. There are some pretty stupid people running NBA organizations, yet still, nobody is dumb enough to guarantee four or five more years of his bs. He's going to find that out shortly, as the Nets have told him he can go look for sign-and-trades. Even for a team starved for talent like the Lakers, I wouldn't even trade Russell Westbrook straight up for him, and I'm certainly not giving up draft picks. If Kyrie wants to leave Brooklyn and join the Lakers, it's fine if he's willing to take the $6 million tax payer midlevel exception for one year. I still have a hard time believing he's willing to leave $30 million on the table by doing this, but this is also the same guy who believes the earth is flat, so maybe we shouldn't be surprised. Save Russell Westbrook's contract for a trade to bring in some useful role players, especially now that John Wall is likely an option for them as well. Meanwhile, Lebron is the biggest troll I have ever seen, as he's now posting Kyrie highlights on his IG story. On the bright side though, the Lakers drafting and scouting has always been on point, and they have some very interesting summer league players to keep an eye on after last week's draft. Laugh all you want about Shareef O'Neal and Scottie Pippen Jr. on the roster, but the Lakers scouting department has earned the benefit of the doubt, and they know what they are doing.
Elsewhere around the NBA draft, I still think many of the UCLA kids made a big mistake entering the draft, and Thursday night did nothing to change my opinion of that. Johnny Juzang and Jules Bernard went undrafted, and now will have to prove themselves in summer league for the Jazz and the Pistons, respectively. Peyton Watson did manage to successfully bet on himself, and was the last pick in the 1st round, before being traded to the Nuggets. I realize that every NBA team is desperate for wings and all, but we've reached the point of desperation where a kid who averaged 3 points and shot 32% from the field as a freshman is a 1st round pick. I hope these kids have successful NBA careers, but right now, I think they are getting very bad advice. Also, congrats to Isaiah Mobley for being drafted by the Cavs, and re-uniting him with his brother Evan. That's good for USC Basketball. I also hope that Christian Braun has a very long and prosperous NBA career for many reasons, especially after his mom attended the draft.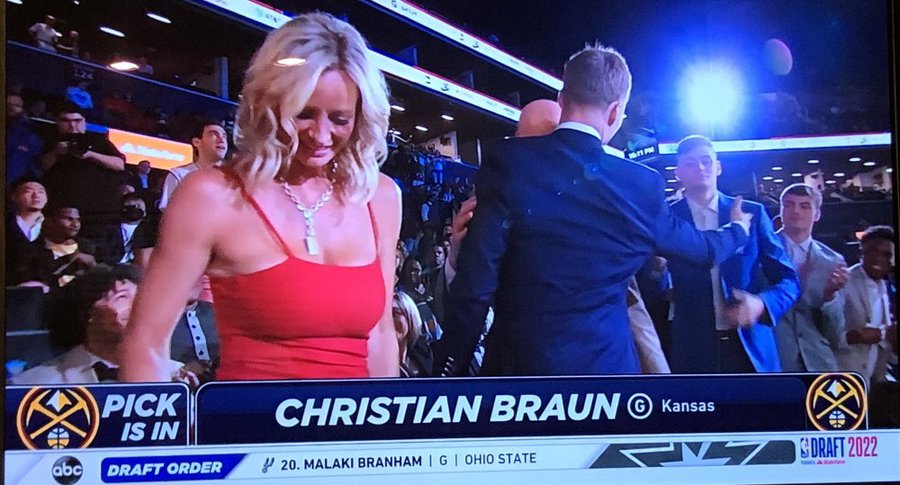 A couple of thoughts before NBA free agency madness begins later this week. Are we sure Kevin Durant isn't actually tired of Kyrie's antics and is ready to see him leave? Dude hitched himself to the wrong wagon after leaving Golden State, and no matter how cool he is playing it, he has a right to be pissed at Kyrie for his antics. I know Suns owner Robert Sarver is cheaper than George Kostanza, but I have a hard time seeing him trade away DeAndre Ayton and make his team better, unless somehow they are getting Kevin Durant back. Can't wait to see how the Sixers negotiate James Harden's new contract. There should be a provision in there about how many strip clubs he can go to in a given month.
Congratulations to the Colorado Avalanche on winning the Stanley Cup. You've gotta be especially happy for former LA King Jack Johnson, who has had a hell of a rough ride prior to this season. Johnson was basically screwed financially by several of his family members a few years ago, forcing him to file for bankruptcy. There's also several former Anaheim Ducks that got to hoist the cup last night as well: Josh Manson and Andrew Cogliano. Unfortunately for the Lightning, they got hit with the curse of Corey Perry, who has lost in three straight Cup Finals with three different teams. At least somebody got to three-peat.
To baseball, where the Dodgers took 2 of 3 from the Braves over the weekend, and are now 2 games up the on Padres in the NL West. Look, I get that Freddie Freeman played a long time in Atlanta and won a World Series so it's a little emotional, but is he going to cry every single time he plays the Braves? Even Clayton Kershaw is beginning to think it's a little overdone with his comments over the weekend. All things considered though with all the injuries, the Dodgers are still in decent shape. Losing Daniel Hudson for the season is a big blow to the bullpen, but they will need some trade deadline re-enforcements in the way of a high leverage reliever (if not a closer), a solid starter, and a bat that can just put the ball in play. Getting Dustin May and Walker Buehler back will help all this, but they could need more against the likes of the Mets, Braves, and Padres just to get through the NL. Cody Bellinger is not only destroying the Dodgers offensively by hitting .200, he's also destroying their team by running into Mookie Betts and injuring him, making matters worse.
As for the Angels, thank goodness for that brawl yesterday against the Mariners, because all everyone seems to wants to talk about is trading Mike Trout and Shohei Ohtani. That's the most fight the Angels have put up in weeks. Raisel Iglesias was especially angry after that, making me wonder if he just found out about Roe vs Wade getting overturned. After getting their heads kicked in for weeks, I was expecting the Angels to bank some wins against the Mariners and Royals. Instead, they pulled out a mediocre 5-4 record, and sit 6.5 games back of an AL Wild card spot. Another rough stretch against the White Sox and Astros this week, and we might be talking more about the Angels tanking than pushing for a playoff spot.