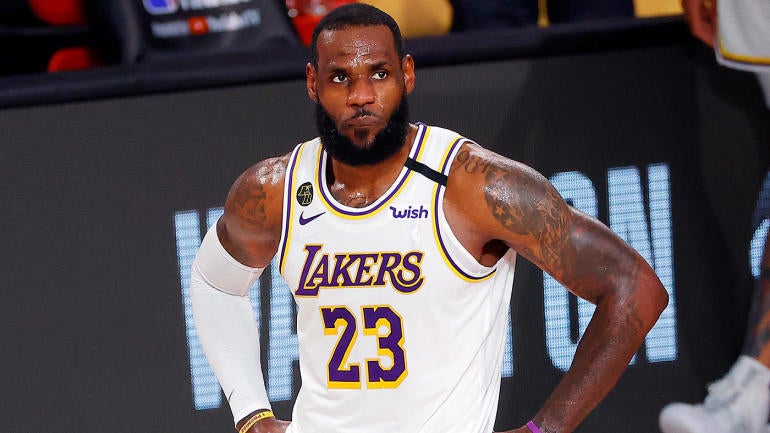 November 9, 2020
The NBA is officially coming back on December 22nd! I know that feels bizarre considering the season just ended five minutes ago, but nobody can really be that upset about it. The players and owners need the money, they need to get closer to a normal schedule, and people need entertainment around Christmas. As for the Lakers being at a major disadvantage, a few extra weeks of rest isn't going to make a huge difference. Lebron's been doing this for 17 years, he knows how to pace himself, and his squad. Besides, right now, Lebron is probably just pumped he can go visit the White House, and not be served fast food. Instead, he'll probably get fast casual food.
What is it going to take to get the Chargers to win a close game? I mean it's getting to the point where we are running out of jokes about them to put on this blog. Even Shakespeare couldn't script endings that are this tragic. I don't know what more you want Anthony Lynn to do though. He can't catch the football for his receivers at the end of the game. To a large extent this is just about execution. The talent is there. With 6 losses by 7 points or less it's like the Bolts are nearly, almost, but not quite an elite team. Until we see it, Justin Herbert is going to look like a Ferrari that's parked in a trailer park. At 2-6 though, it's probably safe to say this team will be watching the postseason on TV this year.
Elsewhere around the NFL in Week 9, Tom Brady and Antonio Brown must have had a very awkward bus ride yesterday after the Bucs got destroyed by the Saints. That Giants-Washington game should have been included as part of Saturday Night Live. The Cowboys avoided a bloodbath against the Steelers, but moral victories don't even count in the NFC East. The Falcons shocked their fans by actually holding on to a lead in their win against Denver. Even James Harden thinks Seattle's defense stinks, as the Seahawks got beat the by the Bills. The Ravens roasted the Colts, and Philip Rivers will get roasted by his teammates for a pathetic attempt at making a tackle. The Texans beat the Jags, but JJ Watt basically told the media he'd rather be playing on Mars. The Chiefs beat the Panthers and Patrick Mahomes is so accurate, he probably has a career in darts if football doesn't work out for him. The Vikings beat the Lions, and Kirk Cousins is going to call the league and ask if they can play Detroit every week. The Titans beat the Bears and AJ Brown should change his name to "AJ Beast". Here's a look at the mess that was the Giants and Washington.
To College Football where the Pac-12 is back! Although USC must have received a late notice. The Trojans played ASU on Saturday at the Coliseum, and it looks like they thought the game started at noon instead. That win was about as fortunate as it gets. Good thing for Clay Helton because now he won't have to hear noise about his job security for at least another week. Kedon Slovis made a big throw late in the game, but that covered up a lot of warts. The run defense was weak, as was the run game, but Arizona State handed that game over like they were some 501C3. The win generously put USC at #20 in the AP Poll so Trojan fans can take that for what it's worth.
Then there's UCLA. There's been all this weird stuff happening in 2020, yet UCLA still stinks at football under Chip Kelly so thanks to him for making us feel normal again. The first half against Colorado may have been the worst in Bruins history, and that's saying a lot. At that point, I was beginning to think I'd rather have Joe Biden playing quarterback than DTR. I'm beginning to wonder if Chip Kelly thinks he needs to tank to get a #1 draft pick. He does realize he's coaching back in college again right? This program has players that look like they have regressed, and look less and less motivated to play for Kelly by the day. I realize that UCLA AD Martin Jarmond just turned on his computer, but he's gotta at least be raising an eyebrow at what he's seen so far.
What an exciting Saturday night it was to be a Notre Dame alum, or a football fan. The Irish knocked off #1 Clemson in South Bend in double overtime, in arguably the biggest win of the Brian Kelly era. Also, for those of you trolls that want to point out that Trevor Lawrence didn't play, you conveniently forgot that the Clemson backup QB threw for 435 yards, two touchdowns, and didn't turn it over. How much better can you expect from Lawrence? Unless he can tackle somebody, it's just as meaningful of a signature win. As for the rush of students onto the field, I realize that all these kids were acting like the cure to COVID-19 was beating the #1 team in the country. It wasn't a great idea, as are a number of other things we do anyway for a variety of personal reasons (i.e. – celebrating your candidates presidential victory, going to a rally of your preferred presidential candidate, or protesting for a social cause). They are all risky given we are in a pandemic. I will say though that for as stupid as we all think teenagers and young adults are, you've gotta at least give credit to nearly all the people that rushed on to the field with masks on.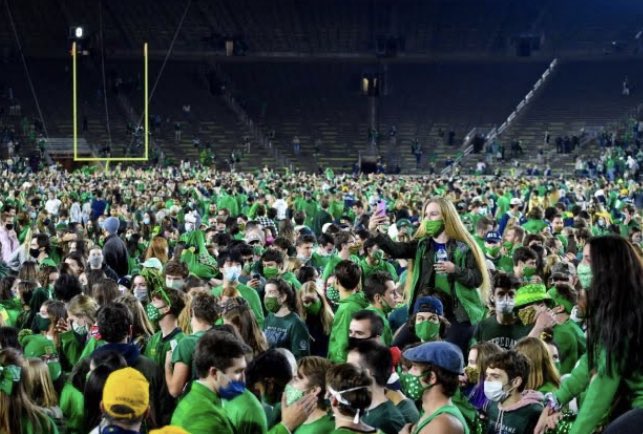 To baseball where the MLB offseason is upon us. That means the hot stove is already starting to heat up with rumors around the Dodgers, and specifically with Indians Shortstop Jose Lindor. The same can be said for Reds pitcher Trevor Bauer. In years past, this is where I would crush Andrew Friedman for not doing everything in his power to improve the team when he has the resources to. Not this year though. Friedman is a super nerd, but he's shown us that they can easily acquire those two studs, but don't need to. This would be like buying two Ferrari's when you already have three in the garage. Why add $50 million to your payroll, even if it's just for one year, when you have plenty of great young arms that are only getting better, and a solid clubhouse guy in Justin Turner you can bring back on a reasonable deal? They also have a young stud of their own waiting in the wings with Gavin Lux. Anything is possible, but I don't see the Dodgers going too crazy this offseason, other than finding a way to re-tool their bullpen.
It took 6 days, and I'm still not entirely sure the election is over. I would have never thought that two men in their 70's could maintain an election for this long. Most people experienced some form of anxiety during this process, but not Al Horford's sister, who claimed that it made her horny on Instagram. Meanwhile, John King is amazing. He looks even more amazing since he probably got dressed in the copy room at CNN everyday last week. I also learned last week that I'm not nearly as good at identifying states on a blank map as I thought I would be. Trump had the lead everyone, but then again, so did the Clippers. Nevertheless, it was incredible to see people refreshing their timelines like it's NBA free agency. Those remaining states should really offer a list of demands before releasing the vote counts. On the plus side for Trump though, he no longer has to publicly pretend to enjoy being around Don and Eric anymore.
Dave Chappelle was amazing on Saturday Night Live. If you were offended, you probably shouldn't be watching SNL in the first place. However, credit to NBC for letting Chappelle go unfiltered, despite maybe not being all that safe for network TV. This is probably one of the few comedians in the world who can get away with a KKK joke, an AIDS joke, while having a lit cigarette on stage. What may have gotten lost in all the hilarity of his routine was one important message he said to all Americans. That message is to forgive each other for how we've treated one another throughout this whole process, and move forward together.
Finally, I never thought the Bachelorette season would end before Nevada finished counting. Poor Dale. The guy has to be pissed. I'm sure he just went on the show to get famous, go on a few nice vacations, and now he has to get engaged after one date. As for the rest of those other dudes, they are stoked they get to get hurt again now that Tayshia has shown up. You've gotta hande it to these guys. They handled the loss of Clare with such grace, class, and dignity, which is always difficult to do after losing out on a week at La Quinta. Seeing these guys pretend like it was a struggle with the decision to stay or go is hilarious, as if they had any time at all to start liking Clare. If anything this season just goes to show you ladies that if you don't settle at a young age, you too can get engaged at La Quinta. Seriously though, we have to watch Clare and Dale tell their story on the Tell All? I think I'll pass on that.