November 25, 2019
The Lakers are 14-2. Lebron has never gotten off to a start this good with any team. Hey Jackie McMullon and Brian Windhorst….not bad for a team that is "a work in progress" right? I can't wait to see what they look like when they do, because they are already a defensive juggernaut. Weird because I thought they were supposed to be flawed defensively, and that Rob Pelinka was a novice. Where are all those people now? It's a long season, and a lot can happen between now and June, but if this team stays healthy, no reason they aren't going to be a legitimate title contender. These ESPN NBA analysts are more inaccurate than a Southern California Weather Man.
As for the Clippers, they have been finding the win column as well now that they have Paul George and Kawhi Leonard on the floor together. There's a lot of skill set duplication with these two, but defensively, they can be very good when they want to, which we saw on Friday against the Rockets. That was a great game to watch between two very annoying teams that deserve Oscar Awards. James Harden is a phenomenal player, but his ability to manipulate referees into sending him to the foul line makes the game very unwatchable. As if that's not annoying enough, Doc Rivers might as well be defending the three-point line since he's so far onto the court in the 4th quarter. Then there's Patrick Beverly who is out here acting like he just got tazed.
Speaking of the NBA, I can appreciate the idea of Adam Silver's radical proposals. I love the idea of re-seeding at the conference finals to insure the finals are played with the two best teams. That's a good compromise as opposed to seeding 1-16 to start the playoffs, which would cause additional travel fatigue for some teams. As for the in-season tournament, as long it doesn't replace the All-Star game, I'm in favor. This could reduce tanking, load management, and make some of of the smaller market teams more relevant. If executed properly, it has great potential for success. You can thank the Clippers load management of Kawhi for getting the league to its breaking point on this issue.
To College Football, where I've never seen a weirder UCLA-USC game then Saturday at the Coliseum. Both teams fan bases wanted the other side to win, all because of the fate of Clay Helton. That's right….UCLA fans want Helton to stay to keep the team in mediocrity, while USC fans want Helton gone to get back to being an elite program. Then it was almost like Helton and Chip Kelly were trolling each other with all the timeouts they called at odd unnecessary moments. 52-35? Cute flag football game guys. In typical UCLA fashion, the offense put up some points, the defense was awful, and Kelly was wildly idiotic. A perfect summary of the season. Get ready for another season of that. Meanwhile, the Trojans will probably make it to some mediocre bowl game, while we await the fate of the underwhelming Helton. Hopefully they don't wait too long to decide for their sake, since their recruiting rankings are sinking like the Titanic.
I was really beginning to wonder if UCLA basketball was any good, but I got my answer after they lost to Hoffstra at home on Friday. That's this season's version of a Cal Poly loss, which they suffered at home in the recent past. Since Mick Cronin is telling us his team is a work progress, maybe next year he should schedule the likes of Bluefield State, Arkansas Pine Bluff, Redlands, and Hampton, who all scored fewer than 50 points in a game this week. Now I see why UCLA was picked to finish 8th in the PAC-12 by the media. Unless Mick Cronin can draw something on a white board other than a clown face, I'm pretty sure things are going to get a lot worse for the Bruins when they start facing tougher competition in Maui next week.
In the NFL, we can now add Philip Rivers to the long list of things we need to apologize to Mexico for. Rivers was awful last week against the Chiefs in Mexico, and has been looking very washed up the last few weeks. For the few of you left who are only "sticking with the Chargers because of Rivers", you might want to start thinking about what you're going to be doing with your Sunday's next fall. We've been saying for several seasons the Bolts need to find a successor to Rivers in the draft, but they've been stubborn about it. Now it's about to catch up to them. That's just one of many problems for a team that has no fan base, and is about to move into a new stadium where they will be even more of an embarrassment.
The Rams don't play until tonight against the Ravens at the Coliseum. However, they better bring everything they've got. If they lose this game, you can pretty much put the nail in the coffin on their playoff hopes for this season. I sure hope Sean McVay is planning on giving the ball to Todd Gurley about 30 times in this game, and milk the clock on every possession. Otherwise, Lamar Jackson is going to dismantle them piece by piece and it's going to get ugly at the Coliseum.
Elsewhere around Week 12, The Patriots got the benefit of another critical call in their win against the Cowboys. The refs have to be having Thanksgiving dinner at Bill Belichick's house. The Packers play like cheese heads when they play in the state of California. Jameis Winston recorded his 100th career turnover against the Falcons. To celebrate, all fans in attendance received a coupon for a free Apple turnover from Betty Crocker. The Jaguars made the Titans look like the the '72 Dolphins. The Raiders lost to the Jets, and their playoff hopes are disappearing faster than a Democrat's hopes to become President. The Steelers benched Mason Rudolph in favor of Delvin Hodges and got a win, but the real laughs were in Cleveland, where Browns fans were swinging at Rudolph pinata with a football helmet. These guys are killing it!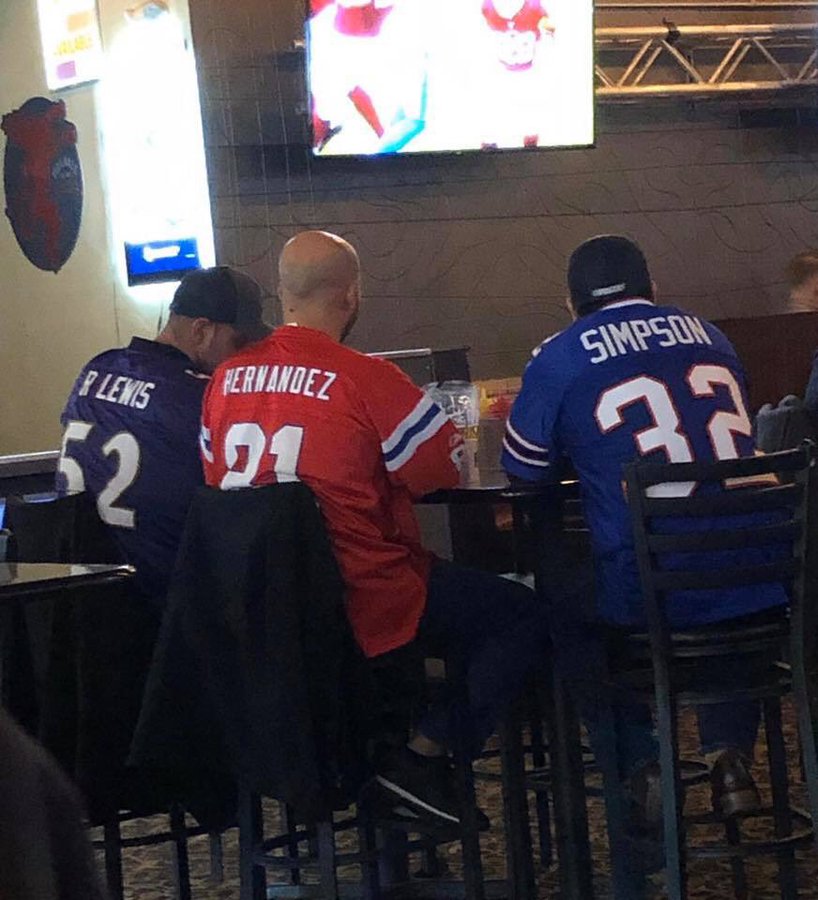 On the ice, I love how the Kings had won 4 of their last 5 games going into Saturday, but were in no danger of jeopardizing their lottery status. LA is still firmly in last place in the Western Conference, and only the Red Wings are worse than them in the entire league. The Kings also lost to Coyotes twice this week. The same Coyotes team that is suddenly one of the best defensive teams in hockey, and has almost as bad of an offense as the Kings. It just so happens the Coyotes are near the top of the Pacific Division. Funny how that works. You would think a Kings team that won two Stanley Cups this decade with a defensive focus would know that's how you become competitive quickly, but apparently they decided to be like everybody else and chase speed and offense. Downright foolishness. The Kings just keep losing, while their fans would rather be watching re-runs of Temptation Island, because they've gotten so boring.
Finally, the Mid-Season Finale of The Walking Dead went down last night on AMC. Spoiler alert for those of you who have yet to see it, so read no further if that is the case. Where do I buy that Christmas sweater that Chris Hardwick was wearing? Chase the enemy on their own territory…..real smart Carol. Why didn't she just take out an arrow and kill Alpha right then and there? I think the group is gonna need a Genie to get out of that cave where the herd is. Father Gabriel is now the biggest badass on the show. Can't wait to see what Negan's reaction is to all this I never thought Eugene would break through the friend zone with Rosita, but he finally did. Even super nerds can find some action people! I appreciate the show putting the music books in the proper Dewey decimal aisle in the post-apocalyptic library. Judith should have cut that guys head off for what he did to Ace. Great episode, but this is my face when I found out the show won't be back until February 23rd of 2020!