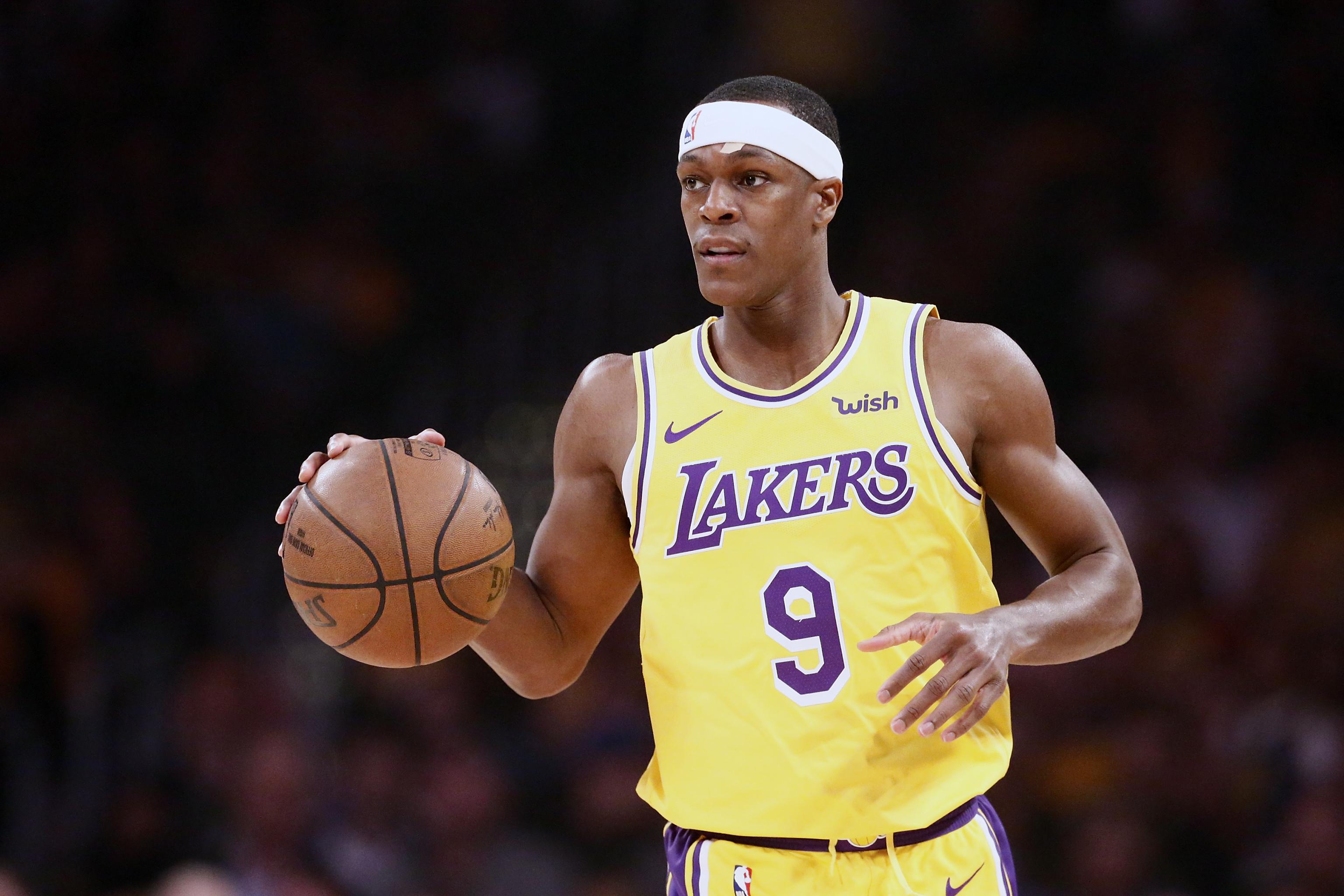 August 30, 2021
The Lakers are really taking this whole "bring the band back together" concept to the next level. They are about to sign Rajon Rondo this week after he was bought out by the Memphis Grizzlies. Some of you people were absolutely up in arms when Jared Dudley wasn't going to be brought back and you claimed his leadership would be missed, so those of you can't be complaining about this move. Rondo brings leadership, and might even be a slightly bigger contributor on the floor than Dudley at this point of his career. Can you guys imagine what Laker practice is going to be like with Russell Westbrook and Rajon Rondo going at each other? It's going to be like the Taylor Swift vs Kanye West rivalry, but on a daily basis. There's two roster spots left and I'm really hoping that Kevin Love is just patiently negotiating his way out of Cleveland, and will sign with the Lakers. If Blake Griffin can get his butt in shape after looking like he was done, then surely Kevin Love can coming back home to play in LA on a championship contending team.
To the NFL, where the Rams made an interesting trade last week, acquiring Sony Michel from the Patriots for a couple of draft picks. That move was interesting for a number of reasons. First of all, there are a number of free agent running backs that are sitting at home without a job. The Rams could have brought in Le'Veon Bell, but they probably thought he was fat. They could have brought in Todd Gurley, but he probably still has beef with Sean McVay. They probably could have brought in Adrian Peterson, but he's older than the Dinosaurs that roamed the earth. Instead, the felt that Michel was a better fit for their offense, and would likely be motivated in a contract year. Second of all, this move speaks volumes about how they really feel about Daryl Henderson. At times, he appears to be a very explosive running back. However, he's not very big and has some durability concerns as we see more of him. The Rams are going to miss Cam Akers, but this seems to be a good move to patch up their running game in the meantime.
As for the Chargers, they must be pumped up that they've gone through training camp without any injuries. This team has been so cursed the last few years, it feels like they need to put up a banner at Sofi Stadium for this accomplishment. That's good news because the Bolts first three games of the season will be like trying to dance through a field of landmines. They have to go east to play a very improved Washington Football Team. They come home to play a Dallas Cowboy team that can put up a lot of points. Then they have to go to Kansas City to play against Patrick Mahomes, which is like having to go up against Jesus Christ. Could be a tough start for the Chargers.
To College Football, where most UCLA fans were ready for the Bruins to devastate them for the next three months. However, UCLA showed up in the first game, dismantling Hawaii 44-10. Really nice to see Chip Kelly decide to show up for this one given the enormous salary he is taking home. That $5 million per year he's earning finally earned UCLA their first non-conference win. I'm clearly not the only one that is sick of Kelly, because if you looked at the stands on Saturday, it appears as though UCLA fans are social distancing themselves from Kelly and his team until they clean up their act consistently. The 32,000 fans were the 2nd lowest the Rose Bowl had seen since UCLA started playing their in 1982. I can't blame them. It was nice to see the Bruins find the win column early, but I'm especially nervous for their matchup against LSU next week, and the fact that Dorian Thompson-Robinson's play at Quarterback isn't exactly inspiring.
In baseball, I don't know what more the Dodgers can do to catch the Giants. They've been on fire the last month, yet they've barely shaved off a game and half from Giants' division lead in the NL West. It's obnoxious that the Dodgers can't catch the Giants, but they shouldn't be afraid of the Wild Card game. Yes, I know you're all envisioning a 1-0 Wade Miley shutout at Dodger Stadium, with the Dodgers swinging for the fences on every pitch. However, I don't see that happening. Of course anything can happen in one game, but the Dodgers have great pitching and a great lineup of their own to work with. If you get one game at home against the Red or even the Padres, they should win. I'm also beginning to wonder if Cody Bellinger is going to find himself on the bench pretty soon. Bellinger is still hitting well below the Mendoza line, and it's only a matter of time before those analytics geeks start calling him the worst player in baseball. Since AJ Pollock and Chris Taylor have been phenomenal, and since Mookie Betts is back in the lineup, benching Belly until he figures things out is starting to make some sense.
As for the Angels, I don't know who they think they are fooling. They should just do the smart thing and shut down Mike Trout for the season. It's obvious that Trout hasn't been able to get himself right from the calf injury that's taken down most of his season. Trout claims he hasn't given up on getting back in the lineup, but why? So he can come back and risk a much greater injury for a team that has no chance of making the playoffs? The guy should just spend the next couple of months getting his calf right to play next year. Imagine of Trout came back and something disastrous happening like tearing his Achilles. That would destroy the 2022 season even before the off-season starts. Unfortunately, it doesn't appear Trout or Maddon feel this way at all, as both have suggested he's coming back in September.
Finally, The Walking Dead was back on AMC last night and as I told you last week, I'm ready to finish strong until the end. Boy, things got awkward when Negan just left Maggie to die, yet she showed up five minutes later. I've seen some dark things on this show, but Gabe stabbing himself to prevent the feeling of pain of Walkers eating him is one of the worst things I've seen in a few years on this show. Amazing that Gabriel has reached the point of calling dudes cowards when his character began as somebody who was rolled up in the fetal position every time he saw a zombie. Good thing Eugene asked the Commonwealth about "process" since the last time he asked about it, the people at Terminus told him they were processing people as meat. "He's a dick but he makes sense" is something Negan should print on a T-Shirt and start selling as an apocalyptic side hustle. Props to the writers of the show for adding some "Karen like" pop culture to the show with the line "we'd like to speak to the manager". Maggie's new character is becoming more and more unlikable with each passing episode. Heck, Negan seems like a better dude at this point that you can root for. Then again, most of you are just happy that the dog survived another episode. Looking forward to seeing what goes down next week.