November 2, 2020
At long last the drought is over! The Dodgers are World Series Champions for the first time in 32 years. The way it went down made it even sweeter. Clayton Kershaw experienced playoff redemption with two huge world series wins and Dave Roberts made the right calls. After years of taking arrows for others in the organization, they have been vindicated. Plus, instead of telling everyone how stupid their narrative was, they both enjoyed the moment with class and grace. There was also the clutch hitting of Corey Seager, and the incredible playmaking and leadership of Mookie Betts. More than anything though, the bullpen came through after 7 years of committing arson in the playoffs. It was no wonder that this team was celebrating bullpen outs like someone just got posterized at the rim. They were almost a miracle in every instance. The Dodgers should probably call Kevin Cash and the Boston Red Sox and ask them for their ring size as well. Cash made the same mistake that we killed the Dodgers for the last few years: pulling their starters too early in the big playoff games when they are rolling, just because the analytics tell you to. Kind of funny that a former Andrew Friedman team lost to a current Andrew Friedman team for using a Friedman philosophy. As for the Red Sox trading Mookie to the Dodgers for nothing, I'm sure their fans are going to be ok. I mean I'm sure those fans are cool with the fact they leveraged the extra capital to surpass Q2 earnings.
You probably noticed there's a lot of World Series stories I haven't even addressed, and that's because I just don't think they deserve a lot of attention. If the talk shows want to focus on how bad analytics are for baseball, or Justin Turner coming back on the field with COVID, they are just being lazy. The real story is how great of a team this was, and how this was arguably a tougher championship to win than if it were a 162-game season. No fans, no days off, and more playoff teams to go through. The only asterisk still belongs to the 2017 Astros, for their use of "trash-can-alytics". If you really want my thoughts on Turner I'll leave it at this: none of us have played in the MLB for over a decade and know what it's like to be in that position of having to make the choice he did. It's easy to not condone what he did, but I can't say none of us wouldn't have done the same thing, so we should get off his back. He might not even be a Dodger in a few weeks. The real blame is on Commissioner Rob Manfred, who barely had the right protocols in place all year. I love that he was booed to the point it felt like there were 40,000 fans instead of 10,00 fans in the stadium. He also sounded like he slammed a few martini's before giving that post game speech.
I couldn't possibly get through writing this edition of MMC without issuing an apology to Andrew Friedman. From nearly day 1 on the job, I've been slinging arrows at him for his overly analytics approach, and essentially telling Dave Roberts exactly what to do. However, the reality of it is, this is Major League Baseball today whether you like it or not, and Friedman does it better than any of his competitors. It took a while for all of us to see this, especially myself, but I can clearly see it now. To Friedman's credit, he stepped outside-the-box with certain decisions. He traded for Mookie Betts and signed him to a massive deal, something he used to shy away from. Not to mention the guy he finally spent the money on was the right guy. He re-signed Justin Turner, Kenley Jansen, and Clayton Kershaw when you thought he might not. He also has built an amazing young pitching staff with all cost-controlled arms for the new few years, and found undervalued gems in Max Mancy, Chris Taylor, and Kike Hernandez. I can't promise the jokes about you using the computer to make decisions will stop, or your geekiness, but you have proven you're a hell of an executive Andrew. The best in today's game.
What the hell are the Angels doing? Their season has been over for more than a month and they aren't even close to hiring a GM. Arte Moreno must be spending his time reading up on the propositions and catching up on Tiger King because the offseason is about to start and they have no front office leadership. Good luck trying to put something competitive on the field next season, namely a decent pitching staff, without a GM or decent scouting.
The NBA is going to have to start the season around Christmas, otherwise they are going to lose a lot of money. However, I fully expect the Lakers, Heat, Nuggets, and Celtics to be mailing it in for the first month of the season. Lebron will probably be banana boating in Cancun, Kyle Kuzma will be working on his wardrobe, AD will be threading his eye brows, and JR Smith will still be drinking Hennessey. I expect to see a lot of G-Leaguers for that first month, but it's a little unsettling to know they will get off to a slow start in a tough Western Conference. Nevertheless, it's a small price to pay to go into the season as defending NBA Champions.
The Rams are so symbolic of 2020. Just when you think things are getting better, they get slapped upside the head by something they didn't know was coming. This time it was the Miami Dolphins. Jared Goff had more turnovers than Betty Crocker in the first half alone. His passer rating in the first quarter was so low, it should have read "LOL" on the stat sheet. Tua only threw for 93 yards in his debut, but it was Goff that looked like the rookie. It's hard not to think that Brian Flores and Josh Boyer have Sean McVay's number, especially since the Rams offense looked about as bad as it did in the Super Bowl. Kai Forbath is probably still walking back to LA at this point, after he missed that field goal to make it a one possession game. Considering the next four opponents are the Seahawks, Bucs, 49ers, and Cardinals, Rams fans should be pretty nervous right now they might fall out of contention ASAP. Hopefully Sean McVay has some major adjustments coming to his offense over the two weeks now that they have a bye coming up.
You have to admire the Chargers consistency at blowing leads and blowing it in close games. The really beared down and made sure they did it again in yesterday's loss to the Broncos. They are the Atlanta Falcons of the AFC West. Not even the brilliance of Justin Herbert can change the inability for this team to finish games. Before you start pointing at the coaching staff for blowing leads of 16 points or more in the last four games, remember, Mike McCoy had the same reputation. It's hard to protect leads when your defense is banged up and not good to begin with. It's a shame everybody is going to focus on that because Justin Herbert looks every bit the franchise quarterback they thought he might be.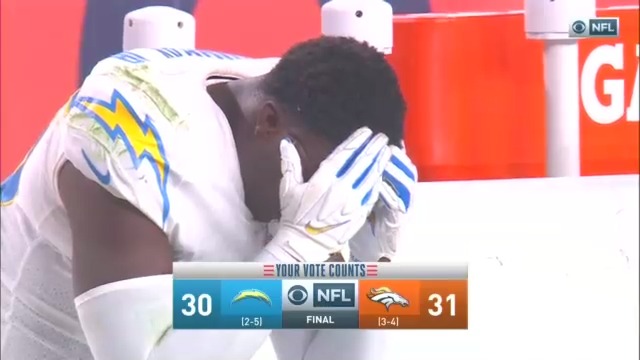 Elsewhere around Week 8 of the NFL, the Steelers beat the Ravens in a game that was so physical, it's painful just watching it. Patrick Mahomes had five TD passes yesterday. The Jets don't have five TD passes all year. Baker Mayfield looks like Joe Montana against the Bengals, and like Baker Mayfield against everybody else. The Packers defense had as many holes as Swiss Cheese for Dalvin Cook to run through in the Vikings win over Green Bay. The Colts smoked the Lions yesterday. If Philip Rivers had brought all his kids to the game, he could have equaled the attendance of the Lions fans. The Titans lost to the Bengals, and their defense has disappeared like Houdini. COVID has apparently aged Cam Newton five years, as the Patriots lost to to the Bills. I'm beginning to think DK Metcalf might be really good and that opponents should cover him after the Seahawks beat the 49ers.
Finally, the train wreck that is the Bachelorette continued last week and it's back tonight. Doesn't it make perfect sense? We get the worst bachelor and bachelorette ever during 2020! What a lame group date. Not one person got meaningful time with Clare. Way to go ABC. Let's have a bunch of guys who are already anxious about their connections with Clare sit around all day stewing in the sun, tell them the only fun active thing they might do all week is canceled and they have to share a cocktail party with Dale. It's been three episodes and the woman is smelling his pants, calling him her fiancé. That's not how this is supposed to work Clare, but that's fine. If it doesn't work out with Dale, don't come crawling back to Bachelor in Paradise. Thankfully, Tayshia came out of that pool at the end of the episode, and looks to be a Bachelorette that knows how this works. Hopefully that will salvage the season.