September 14, 2020
Remember when everybody thought the Lakers were going to get swept by the Blazers? Remember when everybody thought they were an overrated #1 seed? Remember when everybody thought the Rockets were going to beat them in the 2nd round? Those people look foolish now, because the Lakers just dismantled Houston in five games, and now they are playing like the best team in the Association at the moment. Anthony Davis looked like he was playing against a bunch of 6th graders, and Lebron James has reminded us why he's arguably the greatest of all time. Best of all, the role players are stepping up and making shots. Apparently "Playoff Rondo" is still a thing. If the Lakers make their outside shots, no matter who they face, they will win the NBA title. Lebron and Anthony Davis are just that good. Hopefully between now and Friday, they don't die of boredom though in the NBA bubble.
Before I get to the Clippers, let me mention the NBA Executive of The Year. I don't know how Rob Pelinka is not deserving of the award. The man acquired Anthony Davis with practically the entire NBA conspiring against him, except Rich Paul. He then turned around and assembled a championship contending team after Kawhi played him, with what was considered "spare parts" remaining on the free agent market. His useless boss, Magic Johnson, also quit just weeks before free agency started. Of course he won't win the award though because every single voter, which are other NBA Executives, are jealous he got the Laker job when they didn't even get a chance to interview. He also won't win because people don't want to hear him talk about Moses and Israel for 20 minutes in his award acceptance speech.
Meanwhile, the Clippers are gonna clip. Just when you think they are about to take off and turn into the elite team that everybody expects them to be, they look like they might blow a 3-1 lead to Denver. They also keep handing over leads in this series like they are some charity helping the poor. As many jokes as we can make out of this, I fully expect the Clippers to win game 7 and play the Lakers in the West Finals. However, there are some serious issues on this team that everyone has overlooked all season, even though NBA Twitter basically thought they were the greatest things since the 1996 Chicago Bulls. They have great individual defenders, but they aren't a good defensive team. Two of their best players, who both come off the bench, are terrible defensively, and their 4 best players need the ball in their hands to be effective. I think you can blame Magic Johnson, who's tweets just aren't aging well right now.
Believe it or not, Power 5 College Football kicked off on Saturday as well. Notre Dame looks like they would be a welcome addition to the ACC permanently, even though they'll never join. They pounded Duke, Oklahoma, Clemson, and Texas, all looked like powerhouses as well. However, the real story is the Big 10, which changes its mind more than a teenage girl. Now the Big 10 looks like they are going to reverse course and elect to play football sometime in the next 72 hours. Clearly parents in these Midwest states care much more about football than those on the West Coast. Meanwhile, the Pac 12 could care less, not even trying to come up with a solution to play earlier. They are proposing to play in January, like they are some recreational intramural league. I've seen church leagues more determined to play than these clowns. What an embarrassment this is going to be for the conference, and something they might never recover from.
To the NFL, where the Rams opened the Sofi stadium era with a win on Sunday Night Football against the Cowboys. There must have been a laundry accident that led to the Rams wearing their practice jerseys in that game. I am digging the helmets though. So glad Sunday Night Football is back, even if it means we have to listen to Chris Collinsworth. I can't believe so many people picked the Cowboys to win the Super Bowl. Then again, if they are going to win it in the next 100 years, it might as well come in a year that is basically the apocalypse. The Rams benefitted from calls, including Jalen Ramsey flopping like he's Patrick Beverley. Still, I have no problem with it because they got the short end of the stick in so many close games last year. The offensive line looked much improved, and they may be better than we think. However, they need major help at linebacker, and their running game isn't quite as explosive as peak Todd Gurley. Nevertheless, this team might be able to sneak into the playoffs.
The Chargers actually got a win in a close game! Wow 2020 is weird. Randy Bullock and AJ Green are going to be the most hated people in Ohio for the next week, after they ruined Joe Burrow's NFL debut. Knowing the Chargers, Bullock will get cut and probably end up missing kicks for the Bolts later in the year. The Chargers were saved by the offensive PI call, but the tide is bound to turn a little for them in these close games, and at least it did for them yesterday. I'm sure the Bolts will take the win, but they aren't leaving Ohio without some concerns. They have a nice defensive line, a secondary that's a little overrated, and an offense that looks pretty awful so far. Next week won't be easy either against KC.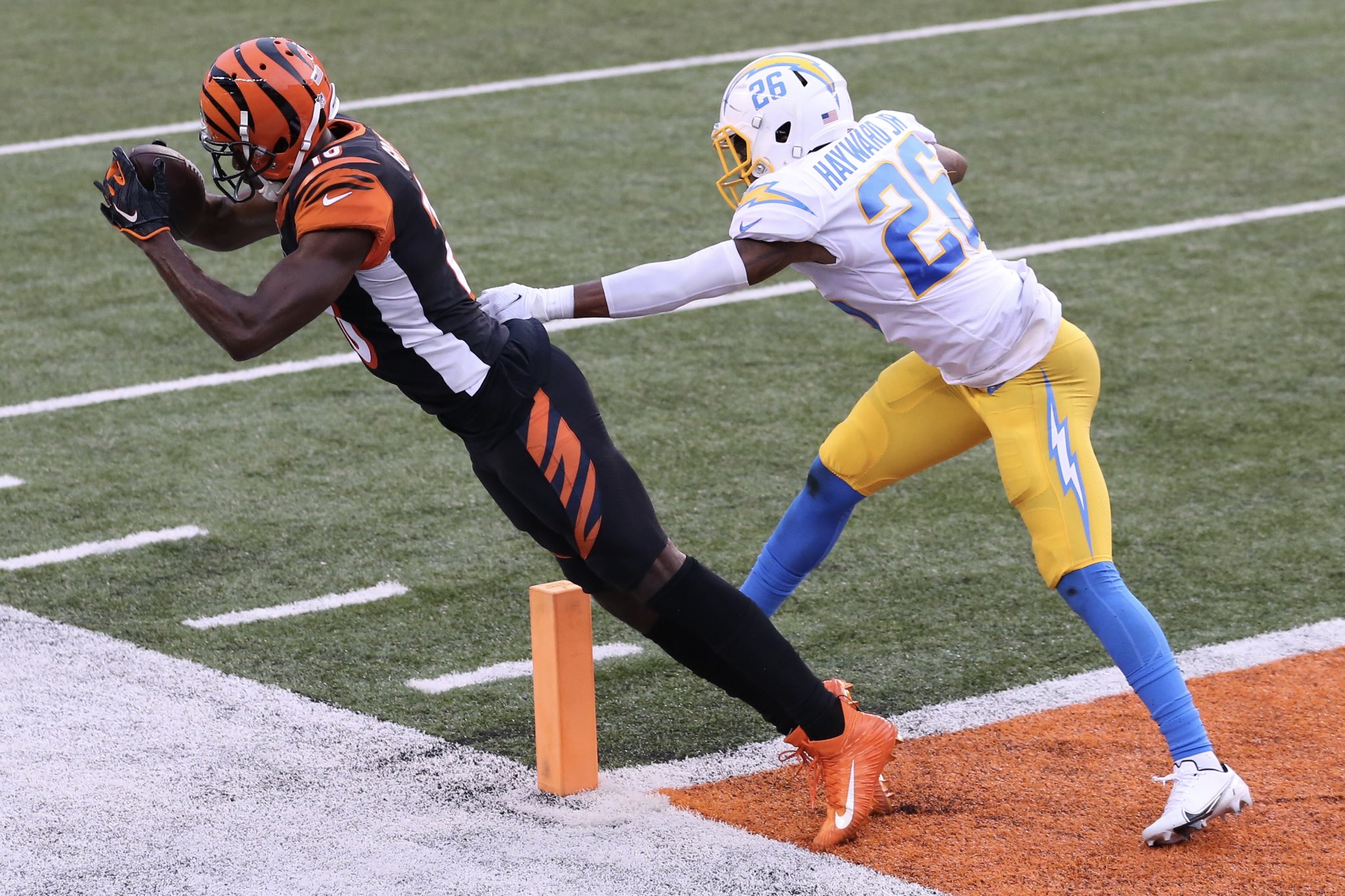 Elsewhere around the NFL in Week 1, the Bears are probably going to reward Mitch Trubisky for the week 1 win vs. Lions with a 10-year, $504-million contract extension. The Saints spoiled the "Tompa Brady" debut. Watching the Browns' and Jets' inept offenses makes everything feel normal again in 2020. Speaking of The Browns, never has it been more fitting for Odell to play for a team called "The Browns". I guess I'll always have to consider him "a #2 receiver." The 49ers lost to Arizona and are probably wondering how much longer Jimmy G's contract runs. Aaron Rogers just gave the middle finger to everybody that said he's done by throwing for 4 TD's against the Vikings. You idiots really let Bill Belichick get Cam Newton didn't you? Then there's the Eagles who actually lost to a team with no name. Death, taxes, and a crummy Falcons defense every year. Finally, the Las Vegas Raiders got their first win, and their fans can't even celebrate because the strip clubs in Vegas aren't open yet.
To baseball, where the Dodgers beat the Astros last night, but they should be getting very nervous right now. Their lead over the Padres is shrinking faster than the ozone, and the health of their young pitching staff is falling apart. Walker Buehler needs to call up Rich Hill, and ask him to pee on his blister to help him heal his chronic issue. Thank god Dustin May didn't break his foot, but who knows how much time he's going to miss. Then there's Kenley Jansen, who suddenly looks like the closer we all feared he had become. He got destroyed by the Astros over the weekend, and the worst part about it is the Dodgers don't have anybody else that can take on that role at the moment. The Dodgers need to fix their issues quickly, or else their season might be over sooner than they think. Also congrats to Joc Pederson on the birth of his child. Joc, just make sure you don't ever give your kid a 1st baseman's glove. Mookie Betts is a stud, and easily the NL MVP. He would be on pace for over 50 home runs if this were a full season. Terrible ESPN broadcast last night, as they talked about pointless things like crossword puzzles and the New York Times. At least this call was good.
Finally, the new norm in 2020, is really just the old norm for the Angels. Mike Trout is still great, Arte Moreno outwitted the city of Anaheim out of $175 million, and the Halos are still a terrible team with no pitching. Actually, the worst part about this season for the Angels is that they actually got just good enough to not get a top 5 pick in the draft, but still are nowhere close to getting into the postseason. This team is just sad and becoming more and irrelevant in SoCal by the day.