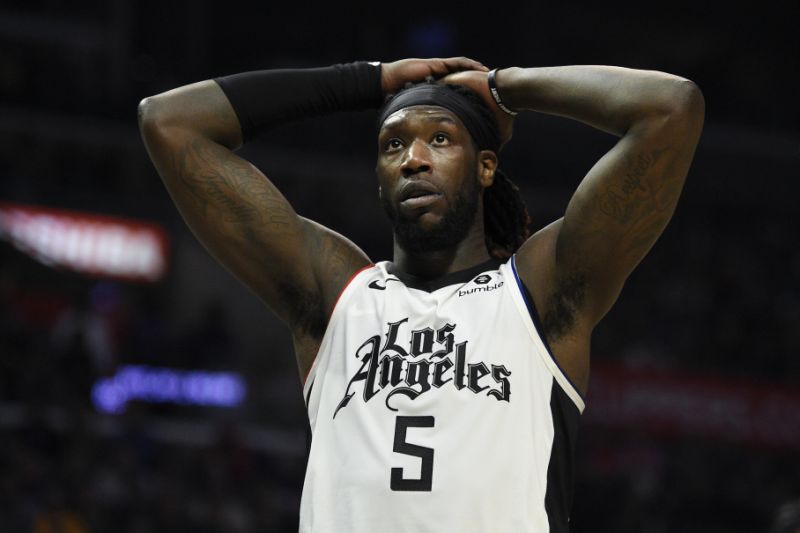 July 20, 2020
The return of the NBA is almost here, but in the meantime, we are learning all kinds of interesting things about The Bubble. Clippers forward Montrezl Harrell says he is going to write "How Many More?" on the back of his jersey. This could mean a lot of things. If I had to guess, this means how many more NBA hoes from Instagram is he going to sneak into the bubble? We know he's the only one that follows some woman on Instagram named Anna Mya. Of course Harrell denied it on Twitter, but this is just about as suspect as anything Fox News or CNN says these days. This is just a reminder that some guys within The Bubble are going to be selfish and threaten to bring down the the whole thing, simply because they can't keep it in their pants for a few weeks. I guess some people will do anything to make sure Lebron doesn't get another ring. All joking aside, I know Montrezl had to leave The Bubble to attend to a family emergency, so hope all is ok with his family on that end.
Speaking of protecting the sanctity of The Bubble, you've probably heard by now there is an NBA snitch hotline to report violations in The Bubble. I'm sure when Chris Paul keeps calling the line to rat out every player, he'll have to sit through a recording that says "press 1 to report inappropriate booty calls, press 2 to report not wearing mask, press 3 for improper Postmates deliveries, Press 4 for unscheduled haircuts, Press 5 to report any violations by a Laker player." We all know that Patrick Beverly looks like a crack dealer, so pretty soon somebody is going to report him for dealing. Someone already snitched on Dwight Howard for not wearing a mask in public, and we're already wondering who it is. I wouldn't be shocked if it was Doc Rivers, who was joking around that he plans on reporting tons of violations until his team is the only one left standing. What makes this so hilarious is that Doc is actually the kind of guy to do this, so I wouldn't put it past him at all. Doc would do everybody dirty if he had the chance.
Meanwhile in the NFL, it's going down in DC! Everyone thought we were just going to hear about a new name change. Instead, we get to hear about sexual harassment in the workplace from a bunch of clueless employees, and even more rumors about sex parties and drugs surrounding Coach Jay Gruden. You may recall that Patriots Owner Bob Kraft was involved in some prostitution a couple of years ago, except nobody seemed to care because his team was winning games. I guess people will actually care about this one since the Redskins have been terrible for a long time. As for the name change, I personally like the name "The Washington Foreskins", as a tribute to all the dicks that are politicians in DC. This one is quite fitting as well:
To College Football, where we're still trying to figure out if we're having a season or not. In the meantime, The Athletic provided some more perspective on Clay Helton's job security for those USC fans that were hoping that he would be fired sometime soon. The University is facing a $300-500 million operating shortfall through June of 2021, which makes a $20 million buyout for Helton and his staff difficult to swallow. That means that if there is a football season, the Trojans are going to have to move forward with Helton and his staff. The NCAA said that if there's games, they might limited to "essential personnel". I guess that means Helton can sit this season out. That big operating shortfall is the result of the fallout from the Gynecologist scandal, the admissions scandal, and the FBI investigation of the college basketball program. USC says they were already planning on reduced capacity this season at the Coliseum. However, didn't they already plan on that when they decided to bring back Helton?
If there's one thing this pandemic has exposed, it's what kind of poor leadership exists across so many different organizations. The latest to be exposed is NCAA President, Mark Emmert. We're just weeks away from what would be the start of the College Football season, and we're still wondering if there's going to be a season or not. Meanwhile, Emmert just emerged from a witness protection program last week to tell us "there is a problem". That's like a weather man telling us it's raining when there's a hurricane outside. What a worthless leader. It's pretty hard to be transparent with people when you're already one of the most corrupt organizations in the country, which is part of the problem here. However, it's amazing that the President of the NCAA is incapable of unifying every single conference President, helping determine what exactly the plan is for college sports in the next 12 months, and if there are contingency plans in place.
Imagine if if you worked for a company that told you "Ok guys, see you in the office next Monday at 8 am," and didn't even mention anything about the virus or health and safety protocols going into work. You would probably think your employer doesn't give a damn about you. That's exactly what the NFL owners are doing. Considering we already thought NFL owners didn't give a damn about the health and safety of their players in the first place, this really isn't much of a surprise. According to JJ Watt, what the players are asking for isn't very much either. At this point it's just common decency.
Finally, the next time you read Monday Morning Coffee, you will have actually have seen the return of the MLB and the start of NBA exhibition games. It's so close I can taste it. It's so close, yet I'm still nervous they won't be able to pull it off. Nevertheless, I'm dying for it to come back, not just because it's therapeutic for all of us in the entertainment it will provide, but more than anything it's unifying. Perhaps once it returns, we won't have to politicize everything. Then again, perhaps that's wishful thinking since everything in 2020 is political.