July 6, 2020
This is where baseball might have a problem. It's biggest star and best player, Mike Trout, might not want to play this year. I can't blame him either, since he has a baby on the way, and might not want to risk being quarantined from the baby for two weeks. Suddenly Angels baseball isn't so promising this year as it felt about two weeks ago, now that the game's best player might not play. It's quite a coincidence that he's having a baby, because the entire MLB Players Association are a bunch of baby's for not wanting to go into a bubble for a 60-game season. What happened to "let us know when and where"? Simply playing without fans isn't going to stop spreading the virus if players can just go wherever they want before and after games. Pick 2-3 cities. Let the players bring their families to limit the travel, and let's try to play ball.
Speaking of players sitting out, you can include Dodgers Pitcher David Price in that group as well. Price informed the Dodgers and their fans over the weekend that he won't be participating this year. Again, I don't blame the players for opting out, but I blame the Players Association for not agreeing to stronger player safety standards. You certainly can't hate on the guy since he just gave $1,000 a week to every Dodger minor leaguer for the month of June. It's actually kind of embarrassing that one of the richest franchises in baseball, the Dodgers, can't come up with this money themselves. It's disappointing he won't play, but the Dodgers have plenty of depth to absorb the loss. Whether or not Andrew Friedman's computer can pick the correct guys is another story.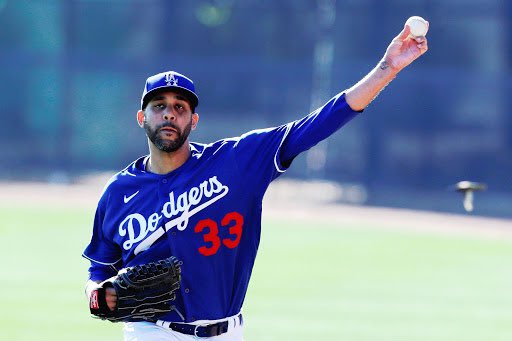 Who put Rob Manfred in charge of baseball? This guy looks more and more clueless everyday. Last week he appeared on the Dan Patrick show, saying that the MLB was never going to agree to playing more than a 60-game season. How is this guy a former attorney? He completely forgot that the Players Association was threatening to file a lawsuit against his owners for not negotiating in good faith. He just incriminated all the owners. Of course a couple of days later, he back peddled on these comments knowing his mistake, saying he meant the current course of the virus is the cause of the 60-games. Good one Rob. I wouldn't trust you to make a turkey sandwich at this point. 2020 has revealed some of the dumbest people are in some of the most powerful positions.
In the latest twist to the drama going on at UCLA, an adult entertainment webcam company, CamSoda, is offering UCLA $205 million over 10 years to fill the void left by Under Armour. Since the NCAA prostitutes student athletes for their own profit, might as well be upfront about it and go all in. At least UCLA would have the honesty card to hold onto here. What's to hide here? We all know college and pro athletes will sleep with anybody, and these adult webcam companies love college girls. Sounds like a super brand to me. In all seriousness though, this would never fly, but it really is an amazing offer, and incredible CamSoda has that kind of money to throw around. Considering how bad the financial situation is at UCLA, you gotta wonder if they at least considered it for 5 minutes.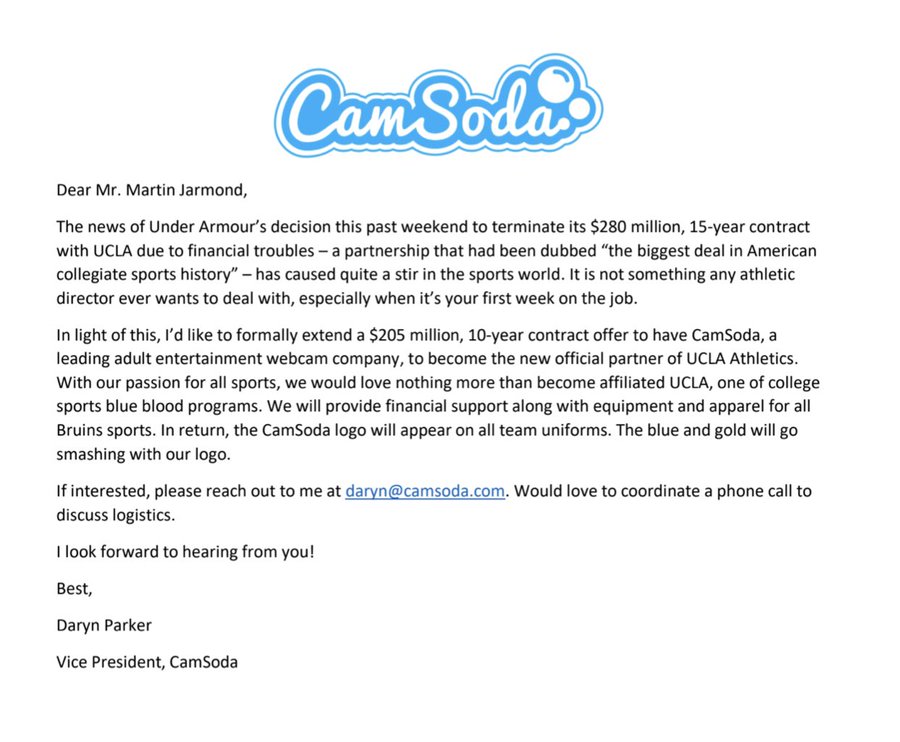 Speaking of College Sports, I just can't see how College Football is going to happen. Many colleges and universities aren't even committing to having their students on campus in the fall. With that being the case, how can they allow their students to play football? Oh wait, it's only so they can make the NCAA money. You can attempt to put professional athletes in a bubble, if they agree to it. You can't do that in college sports. There's also too many schools and conferences that would need to align on how to go about creating student athlete safety guidelines, and I struggle to see them doing that. Then of course there's the SEC, which would probably still try to play football if an alien invasion were taking place. This conference and all its teams are in their own ultra right wing universe, that doesn't seem to give a damn about the virus. They'll play their own conference schedule if they want to, and know that people will watch. They might even put people in the stands. I don't even hear of any contingency plans being discussed, so I'm having major doubts that we'll be seeing college football anytime in the next 6 months, with the exception of maybe the SEC.