November 4, 2019
Do you know what that sound is? It's the sound of Warriors bandwagon fans running to jump back on the Lakers bandwagon after the last 5 years. It's been years since the Lakers won a pair of road game like they did this weekend. It felt like a pair of wins filled with championship pedigree. That's because the team is finally playing great defense and getting critical stops in the 4th quarter, as well as coming up with big plays in the 4th quarter. That's been missing the last couple of season, but having Lebron James and Anthony Davis helps a tad to solve that problem. Even Smush Parker thinks KCP's consistency is garbage. Imagine how good the team would be if he was consistent. Give me more Alex Caruso and less KCP, and this team will be even better. Also, for all the crap I have given Dwight Howard over the years, he's been amazing. Things are looking good, but they need to stay healthy.
Meanwhile, the Clippers are stillwinning as well, but this load management is ridiculous. Doc Rivers said there will be no load management on Kawhi Leonard this season. He's a liar. 5 games in, Kawhi was already resting. The concept of load management makes little sense too, especially when Kawhi is sitting against elite teams, and when the game might be so lopsided on one night, you might be able to limit his minutes anyway. You know what…..tomorrow I'm going to tell my boss I need to take a day off for "load management" to perform better in 82 days from now. Not for a sick day or vacation day. Just load management. That should go over really well with HR.
Come on Dodger fans be realistic. Stop salivating over free agents that you know Andrew Friedman will never sign. You think Friedman is going to give $200 million to Gerrit Cole? Or Anthony Rendon? Get real. This guy approaches free agency like a guy looking for coupons before shopping at the 99 Cent Store. You can be sure he's going to look for a couple of terrible relievers with "good spin rate", trade Corey Seager for pennies on the dollar to avoid paying him, and then tell us how great he feels about his teams chances. The Angels on the other hand will be printing money if necessary to sign Gerrit Cole. Meanwhile, my Dodger self-esteem doesn't seem to be feeling any better after losing to the eventual World Series Champion for the third straight year.
Did the entire city of Green Bay show up at Dignity Health Sports Park yesterday? It sure felt like it when seeing all the Packer fans fill the seats at the Charger game in Carson. This time though, the Bolts did not find a new ways to embarrass themselves on the field and got a win. It figures right? The Chargers manhandle a good team, but can't actually win against crummy teams. The Bolts fired their offensive coordinator Ken Whisenhunt earlier in the week, and if I didn't know better I'd say he was hired by the Packers with the way their offensive played. Why can't the Chargers be more consistent? Oh they have injuries you say? Well the Patriots, Seahawks, and Ravens all have injuries too, and they are in a playoff
spot at the moment. That's probably because they don't give away football games like the way you give away your junk to the Salvation Army come tax time. Can't say I expect their season to turn around after this win, or their stadium to start having their fans in it either. Here's a look at all the Packer fans yesterday.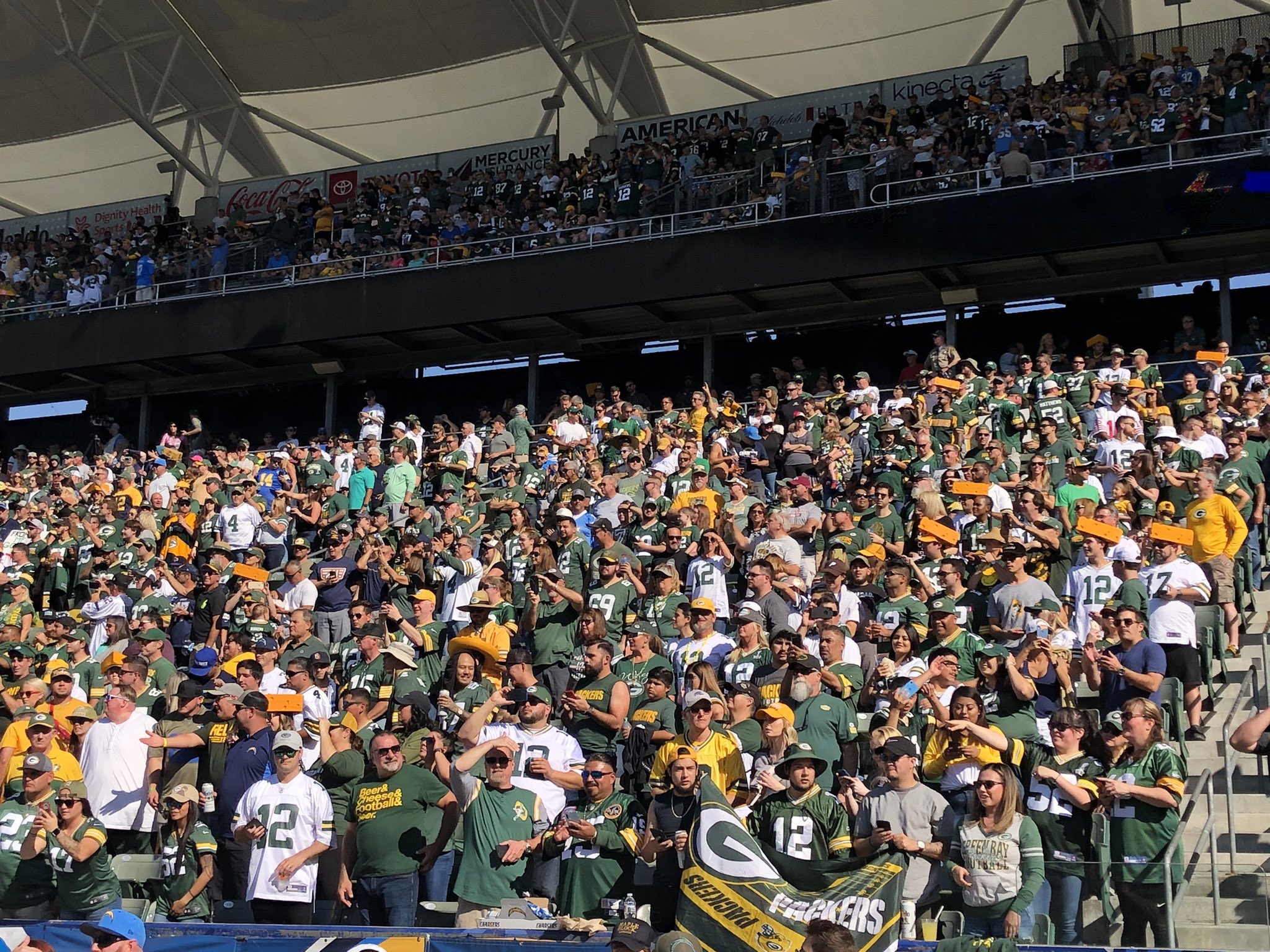 Elsewhere around Week 9, Christmas came early for everyone after the Ravens ran all over the Patriots and gave them their first loss. After the Dolphins beat the Jets, I'm waiting for Miami to fire coach Brian Flores followed by a statement that says: "Winning is something we simply won't tolerate around here." Meanwhile, Jets fans are off to hang themselves. Apparently Minshew Mania doesn't travel overseas, because the Jaguars got crushed by the Texans in London. The only defense Mitch Trubisky can beat down is the Bears defense. The only difference between Kirk Cousins and Matt Moore is that Cousins is overpaid. I don't know what happened to OBJ, but the Browns have made him disappear like David Blane. We should just
save everyone time and give the MVP to Christian McCaffrey now. The Redskins are 1-8, haven't scored a TD in a month, but Daniel Snyder and Bruce Allen are reminding fans to purchase their playoff tickets.
Not much of a feel good weekend for the USC football program and their fans. The Trojans ended up taking a senseless beating from Oregon at the Coliseum. I'm not sure which was worse, the one the Ducks administered, or the one Reggie Bush and Matt Leinart gave the coaching staff at halftime on Fox. Bush and Leinart said the coaches do nothing but put the players in position to fail. They aren't wrong. It's going to be tough for Clay Helton to survive after that showing. Then there's the hiring of Cincinnati AD Mike Bohn. The bad news is he was about their 6th choice. That just goes to show you how bad not only USC is now, but the Pac-12 in general. The good news is that he has no USC ties, so he's not some Trojan Kool-Aid drinker. He'll bring fresh thinking. Unfortunately if you're banking on Urban Meyer coaching this team next year, I doubt it's going to happen. There's no way you can preach about a high character program while hiring Meyer. What's next? Hiring O.J. Simpson as the head of a domestic abuse prevention program?
Look at UCLA football now. Suddenly these jokers are now in 2nd place in the PAC -12 South, and control their own destiny in the division. I'd be shocked if this team actually goes into Utah next week and wins. However, this is the PAC-12 we are talking about. where all the games should really be aired on Comedy Central. Any "good team" finds a way to lose every week.
Nevertheless, I've gotta give credit to Dorian Thompson-Robinson, who mightactually be able to play quarterback after-all, and has been improving.
To the NHL, where the LA Kings are just as bad as I suspected. This team has one of the worst defense the league has seen in years, and it's apparently caused goalie Jonathan Quick to look like the second coming of a traffic cone. It's depressing when you think about the fact this team still has pieces from their Stanley Cup championship teams earlier in the decade, but just like your Apple IPod, they have become old and outdated. Rebuilding is fine, but the idea of building without thinking about defense and goaltending first is silly. That's how the Kings did it earlier in the decade, and that's also how last year's Stanley Cup Finalists did it. It's gotten so bad though even Luc Robitaille's wife won't go to the games anymore. 
Finally, another episode of The Walking Dead went down on AMC last night. Spoiler alert for those of you who have yet to see it, so read no further if that is the case. I forgot how much I missed Negan until we saw an extended look at him in this episode. I also never thought I would be so excited to see him kill Brandon, who was more annoying than a nagging housewife. I know we're all cheering for the whole "Caryl" thing to go down, but Connie and Daryl seem like they are really a thing. Ezekiel can't seem to catch a break. He loses his pet, his Kingdom, his kid, Carol, and now he has cancer. I don't know about you, but this Magna woman looks amazing and it's the apocalypse. For those of us who know what happened in the comics, it's pretty awesome to see Negan finally meeting with the Whisperers. Alpha is getting more and more terrifying by the second, but she needs to die. Looking forward to seeing where this goes!