July 5, 2021
There is much to get to in the 4th of July weekend edition of MMC starting with the Clippers. The Clips made it further than they have in the history of their franchise before getting eliminated by the Suns. They did so without their best player, so it has to be considered a successful season. They also gained a lost of respect with their resiliency compared to last season's debacle. However, the sustainability of their success is solely dependent on Kawhi Leonard's health, and if he re-signs with the team. This dude was actually weird enough to choose the Clippers instead of playing with Lebron and AD two years ago. You have to ask yourself the question if he's weird enough to leave the Clippers when they are definitively championship contenders with him. Probably not, but nobody really knows this dude. If he starts taking meetings with Miami, New York, or Dallas, you should be worried. We'll find out in a month from now. Pat Beverley is a punk for that shove he made on CP3, and then his weak apology when it was over. Beverley is clearly is a dude who washes his clothes in the sink. We did also find out how weird Steve Ballmer is. Imagine how crazy this guy would get if the Clippers ever won an NBA Championship.
Meanwhile, the Lakers and their fans will not let this idea of a Damian Lillard trade go. It only got worse when Dame showed up to a Sparks game and greeted Lebron warmly. Lillard is a superstar under contract for the next four seasons, and he hasn't asked for a trade. Even if he did , the Lakers have a couple of dirty socks, Kyle Kuzma's hair gel, and an empty can of Coke to offer. That won't get a trade done when the Celtics, Warriors, and 76ers have much more to offer. Even the idea of trading for a player like Ben Simmons is preposterous for the Lake Show. The most important move the Lakers can make this summer is re-signing Dennis Schroeder. He's currently their third best player and if nothing else, can be an asset used in a trade later if he doesn't work out. Ultimately, if Lebron and AD are healthy though, everyone else is replaceable.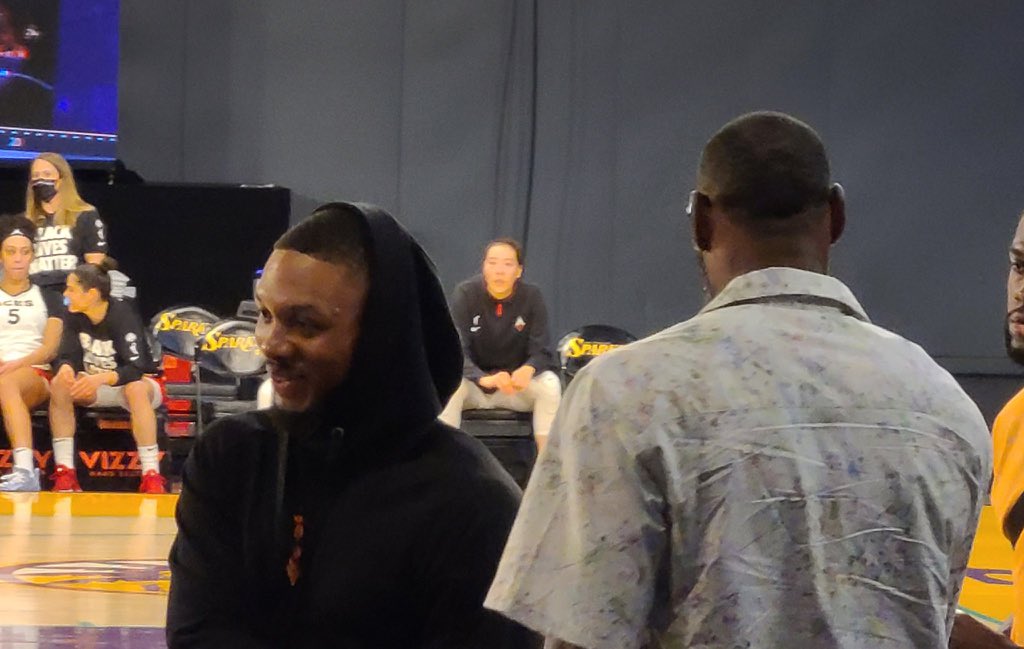 Well here we are at the NBA Finals I'm sure we all predicted: The Milwaukee Bucks vs the Phoenix Suns. I'm sure all the executives at ESPN and ABC are about to jump out of their windows knowing that this isn't going to do much for the ratings. As for the matchup, I realize that every NBA champion is influenced by injuries that occur in a season. However, I have never seen a team like the Phoenix Suns get the kind of breaks they are getting. The Lakers, Nuggets, and Clippers have all had their best or 2nd best players hobbled by injuries during their series with the Suns, and Phoenix has taken full advantage. I can't criticize them because the Jazz did not do so. Now they get a Bucks team that is going to have a hobbled Giannis. That's another perfect opportunity for them to steal one more series, and an NBA title. I've got the Suns in 7.
Scottie Pippen is unbelievable. This feels like a preview of what Kevin Durant is going to be like in twenty years from now. In case you missed it, Pippen went on the Dan Patrick show and claimed that Phil Jackson is a racist for drawing up a game-winning play for Tony Kukoc at the end of a playoff game in 1994. Phil Jackson might have some racially insensitive tendencies, but it's hard for me to imagine that this man, who was a head coach for over 20 years in the NBA, is a racist. Especially since I haven't heard one other single player who has played for him say this about him. Scottie sounds angry and upset about the way he's been portrayed since "The Last Dance" aired last year.
In baseball, the Dodgers are winning games but they have a mess on their hands with the Trevor Bauer situation. In case you've been living under a rock the past week, Bauer is being accused of sexual assault by a San Diego woman, and is now on administrative leave for the next week while the investigation takes place. I can't sugar coat this: the allegations are bad if they are true. The media is also giving it to Stan Kasten and the entire Dodger organization right now in a "I told you so" moment, questioning if Bauer should have ever been signed. Kasten must think he works at USC, where this kind of stuff is swept under the rug all the time. That's not the case here, as the media hammered him about it all weekend, and was not in the mood for his jokes. It is entirely possible that Bauer has pitched his last game as a Dodger if the findings of this investigation go badly. Even if they don't and Bauer gets by on this one, doing damage control will be tough, and will continue to be tough for the entire organization. It's going to get especially awkward a week from now when Bauer's administrative leave is up and there is no conclusion to the investigation yet. Stay tuned for more drama on this one.
Speaking of the Dodgers, Mark Walter and Todd Boehly purchased a minority share of the Lakers – 27% – from Philip Anschutz. There is some real significance to this from a media perspective. Just when you think the cable model is about to crumble, the Dodgers and Lakers might join forces to form some media bundle for you to watch them both. Both of them currently have their own channel's that are difficult to find outside of a cable subscription. The Dodger channel, Spectrum Sportsnet LA is still difficult to attain, even after it was picked up by DirecTV. At the same time, you may have noticed that the cost of streaming services is rising about as fast as your federal tax bill. You can expect the cost of either to go up in the near future with this move, because there will surely be an offering on both. What will you do now millennials? Double down on those illegal streams? Your move.
The Angels had a nice weekend of baseball against the Orioles, but they are still miles out of playoff contention. It's actually quite frustrating. Joe Maddon says "We're really close to being really good." I'm assuming what he means by this is that they just need Mike Trout to return, then acquire three really good starting pitchers and three really good relievers. What's especially frustrating is that Shohei Ohtani has emerged as a spectacular talent, and Jared Walsh is turning into a stud as well. So much talent, yet so little pitching. It's remarkable really. It's gotten so bad that the presumed "ace" at the beginning of the year, Dylan Bundy, is being demoted to the bullpen. They should have sold high on Bundy last year when he was pitching like a true number 1 starter. I'd say the Halos can be sellers at the deadline, but they really don't have much to sell that' going to be appealing to other teams. At best, right now this is a team that might be able to sell a few tickets with Trout and Ohtani, but no chance of winning anything at any point in the near future.
Now that the NCAA has been forced to allow their athletes to make money off their name, image, and likeness, Reggie Bush is speaking out. Bush said this week that he wants his Heisman Trophy back, and that he rightfully earned it. The bottom line is that nobody in their right mind, not even a UCLA homer, would tell you that Bush didn't earn that Heisman Trophy. Simply because he accepted some cash or a car doesn't change what he did on the field. He was special, and so was that entire USC team, which will always be remembered as one of the great teams in College Football History. No NCAA archaic rules will ever change that in the court of public opinion. With that being said, he absolutely deserves his trophy back, to have his jersey retired, and to be honored for what he accomplished. Still, it's hard for me to imagine the NCAA re-instating him. The NCAA is trying to hold on to what little legitimacy and power they have left as an organization, and re-instating all the athletes like Bush who are in a similar situation, undermines that effort.
I'm ecstatic about the Summer Olympics that are coming up in 17 days, but was super disappointed that Sha'Carri Richardson is getting suspended for using pot. Richardson was the favorite to win the women's 100 meter dash. We can sit here and tell you how archaic the World Anti-Doping Agency rules are, and how pot is not even a performance enhancing drug. We should also all feel terrible for Richardson that she lost her mom recently, causing her to resort to pot. With all that being said though, she's been working for 4 years for this. She knows what she can and cannot put in her body. She knows she is going to be tested regularly. This is completely on her. At least we will be fortunate enough to see her run the 4 x 100 meter relay.
Finally, the Bachelorette went down last week on ABC and it's back again tonight. The most obnoxious part of last week's episode is that even though Thomas got the guillotine from Katie, what guy on the show hasn't thought about being "The Bachelor"? Then again, what guy who hasn't been on the show hasn't thought about being "The Bachelor"? Justin really can't ever be sent home because his facial expressions are just too good. I'm still trying to figure out how Katie's skin tone on her hands and face are a completely different color. Perhaps an issue at the tanning bed. Bachelor Nation is completely up in arms over Blake's arrival after all that quality time they put in with Greg the last couple of weeks. This is Blake's third bachelorette he's pursuing. This is a Kardashian level type of achievement. If he gets rejected again on National TV again, hopefully that PPP loan everyone is getting from The Bachelor will be used to pay for his therapy. Looking forward to seeing what goes down next.