October 12, 2020
In the words of the the late Chick Hearn, "The Lakers are the World Champions!" This one felt different, but still very special. One of the worst years in our life time started with the death of an icon, Kobe Bryant. This one was for Kobe and Gigi. Their passing devastated us all. However, this championship would make them proud, and gives the city of Los Angeles and Southern California something to feel good about. Everyone, including myself, owes Jeanie Buss and Rob Pelinka an apology letter, and a fruit basket. So many doubted the direction they wanted to take this team, and whether or not they were experienced enough to do this. Neither listened to the noise around them, and succeeded under the most difficult circumstances. As for Lebron James, remember when you thought he was only coming to LA for non-basketball reasons? No, he came to win more championships, and add to his legacy. That legacy isn't done, and with 4 Championships and 4 finals MVPs with 3 teams, he's making a great case to be the GOAT. His leadership has been tremendous, and the amazing chemistry this team has is a product of that. I also knew Anthony Davis was a great player, but when the Lakers gave up a truck load for him, I even had some doubts he was worth it. However, he was so good, the Lakers should send the Pelicans another draft pick this morning just because.
One thing I've never understood is how for an entire year, the fans and media did nothing but try to tell us how bad the Laker role players were. They've done nothing but play well in the biggest moments. KCP was reliable all year. Rajon Rondo is a championship player that raised his game. Dwight Howard didn't just tell lame jokes and play video games. He found himself and was solid on and off the floor all year, while Alex Caruso is a success story for all G-Leaguers. Even Kyle Kuzma stepped up and played better defense than we've ever seen before from him. All of this happened while another key rotation player, Avery Bradley, was home. Bradley should be back next year as a key contributor, and the Lakers have a chance to defend their title with an even better veteran roster. Don't expect to hear that though from all the media and other Laker haters.
You know who should feel like complete morons right now? Anybody that voted for Clippers President Lawrence Frank as NBA Executive of the Year. Frank assembled a team of front-running jerks that got their coach fired for underachieving in the playoffs, while mortgaging their future on a phony superstar in Paul George. Meanwhile, Rob Pelinka finished 7th in the voting. 7th! The guy that got the better Morris brother, and the guy who assembled a championship roster after Kawhi left him high and dry at the last minute. He also did this in a year where his best friend and God Daughter passed away. It just goes to show you that other NBA Executives weren't going to vote for Pelinka because he got the Laker job when they didn't even get to interview for it. They also hate him because he was an agent that played hardball against them. Now it's Pelinka who got the last laugh last night. NBA Executives should be embarrassed for this, because they just showed they don't have an ounce of objectivity in them. This is just another example of the Laker hate in the NBA being real.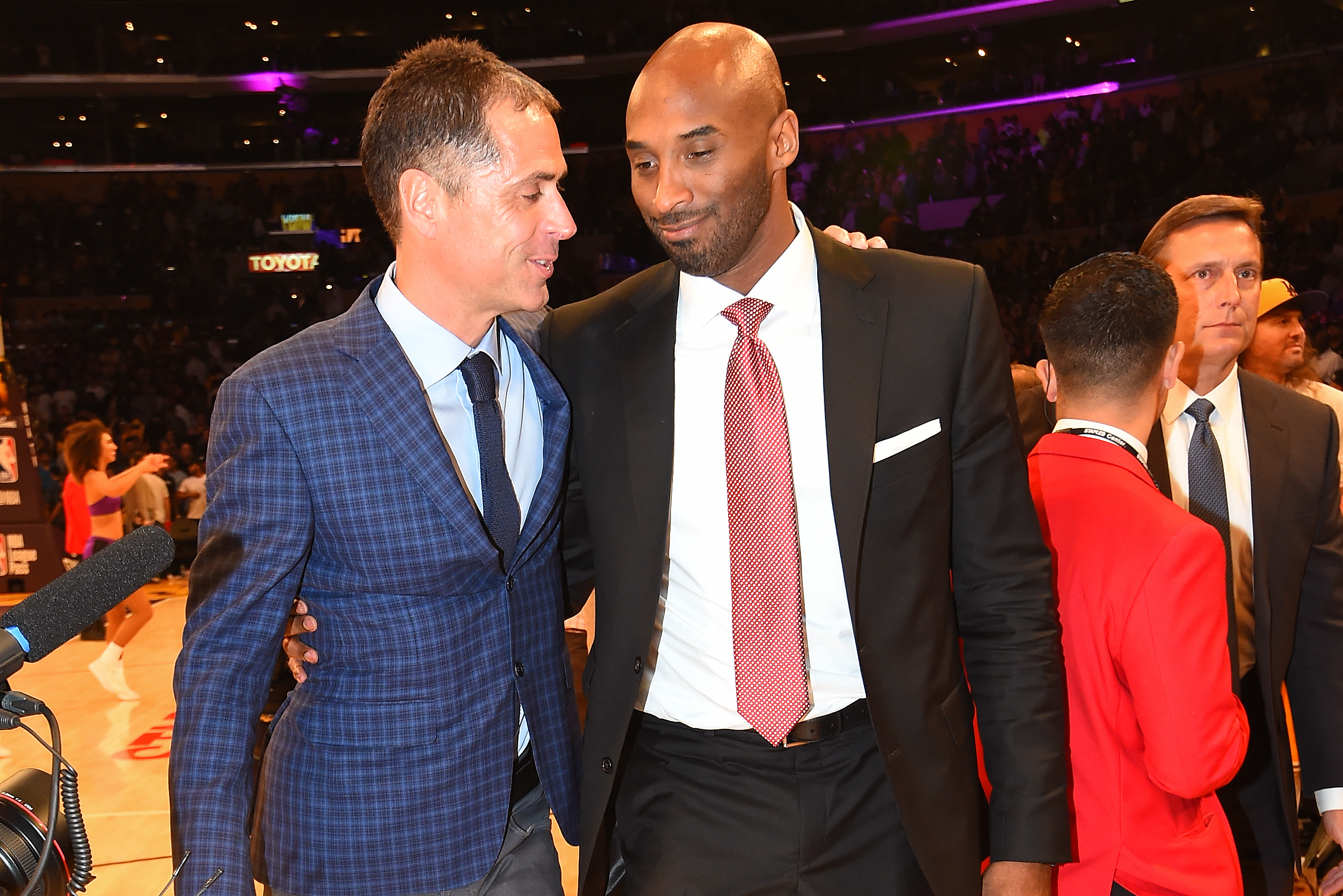 The Dodgers are back in the NLCS against the Braves. They swept the Padres which is only right. San Diego's ugly uniforms look like they were designed by the inmates from "The Shawshank Redemption". As for Atlanta, this series going to be scary. It's sort of like all those years you beat up on your little brother, and now he's a little older, bigger and stronger. That's exactly what this Braves team is now that they have real pitching. Not the same little brother the Dodgers have beaten up on in the playoffs the last few season. Then there's Kenly Jansen, who most of us wish ends up being quarantined for the rest of the playoffs, since he can't even close a hot dog stand right now, let alone a baseball game. As I said going into the playoffs, the Dodgers don't have to over rely on Jansen, Kershaw, or any one player in these playoffs, unlike years past. They have options. They can use Brusdar Graterol or Blake Treinen to close games. They can even use Dustin May. However, there is still a place for Jansen in the pen. It might not be late in games, but he can be used in certain middle relief situations with a short leash. This is a year where more depth is a huge advantage given the schedule. The Dodgers need to use that to their advantage, unlike the last few postseasons, and that should put them back in the World Series.
The Rams beat up on The Washington Football Team yesterday to improve to 4-1! Nice to see Alex Smith healthy, but I think everybody was cringing on every hit he took. Before you haters say the Rams' four wins came against the NFC East, keep in mind that the 49ers and Cardinals have lost to crappy Eagles and Lions teams respectively. You can only beat the teams on your schedule, and the Rams have taken care of business for the most part. Jared Goff and Sean McVay basically just told everyone to go "dink and dunk that!". They may have kept throwing short passes, but it was effective, and now it looks like every single running back on that team is dangerous. The 49ers have been banged up, but they also haven't exactly been a model of consistency so far this season. The Rams have a great chance to go 5-1 next week against their division rivals.
Meanwhile, the Chargers and Saints are getting ready for a big Monday Night Football showdown tonight. This game probably doesn't have the same "Kill Bill" revenge feel to it that it used to have when Drew Brees would go up against Philip Rivers, especially since both Rivers and AJ Smith are no longer with the Bolts. However, this is still a pretty important game for the Saints who are trying to move back into first place, and the Chargers, who are desperate for a win. The Bolts' defense has been crippled with injuries, but the best thing going for them is Justin Herbert. He's been so good that Anthony Lynn had to say "screw it" and name him the starting quarterback moving forward. You certainly have to feel bad for Tyrod Taylor, but it was the right decision, and the Chargers usually don't make too many of those.
Elsewhere around week 5, JR Smith think Tom Brady is a fool for not knowing it was 4th down on the final play of the Bucs loss to the Bears. Two quarterbacks faced off in KC yesterday. One threw for 350 yards, 3 TD's, and had a 129 QBR. The other was Patrick Mahomes. Shocking Raider win! The Ravens beat up the Bengals and made Joe Burrow look like a Pee Wee quarterback. The Texans remembered what it was like to win a football game. The Falcons are 0-5, and probably thought it was better to just not get a lead so they couldn't blow it. The Jets are so bad, Adam Gase has probably asked his boss why they haven't fired him yet. The Eagles lost again as well, and their receivers are playing like the football is infected with COVID:
Finally, remember when the LA Kings were a great team that was competing for Stanley Cups? That last cup came 6 years ago, but they've been rebuilding for the last two years. They now have the best farm system in hockey, but that might not get them to the playoffs for two more years, and might not truly get them competing for Stanley Cups for another 4 years. That's more than a half decade of rebuilding. Since the Kings have not only one of the best, but one of the deepest prospect pools in the league, as well as boat loads of salary cap space, they should trade for an elite goal scorer. That scorer is Steve Stamkos. He's elite, he just won a Cup, and has a contract that isn't terrible given the Kings rebuilding window. Why not speed up the rebuild by trying to make that trade, since the Lightning are desperate to create salary cap space? Prospects are great, but the Kings can't keep them all. They need to figure out who isn't a fit for them, and use those players as assets while they still have value. I'm not sure this concept is familiar to Rob Blake, who inherited the job from someone and wasn't initially tasked with a rebuild.