August 3, 2020
Laker basketball is finally back! It's been a mixed bag for the first two games, but let's be honest, there's a lot more to feel good about than bad about. They beat the Clippers for the 2nd straight time they met, their defense clamped down when it mattered, and Lebron had a huge 4th quarter. For those that want to point out that the Clippers were without Montrezl Harrell and "Lemon Pepper" Lou Williams, keep in mind that there is only one ball. The Clips had trouble sharing it in March, when the Lakers won by 9, and both teams were at full strength. The loss against the Raptors was a loss against a championship contending team, where the Lakers just didn't make open shots. The Laker schedule is brutal for these 8 games. Who's on the schedule next week….the '86 Celtics and the '96 Bulls? At least these games will get the Lakers ready for playoff basketball. They just need to start making some 3-point shots. These 8 games will also give J.R. Smith the chance to learn who his new teammates are. He's probably wondering when the team signed Larry Bird.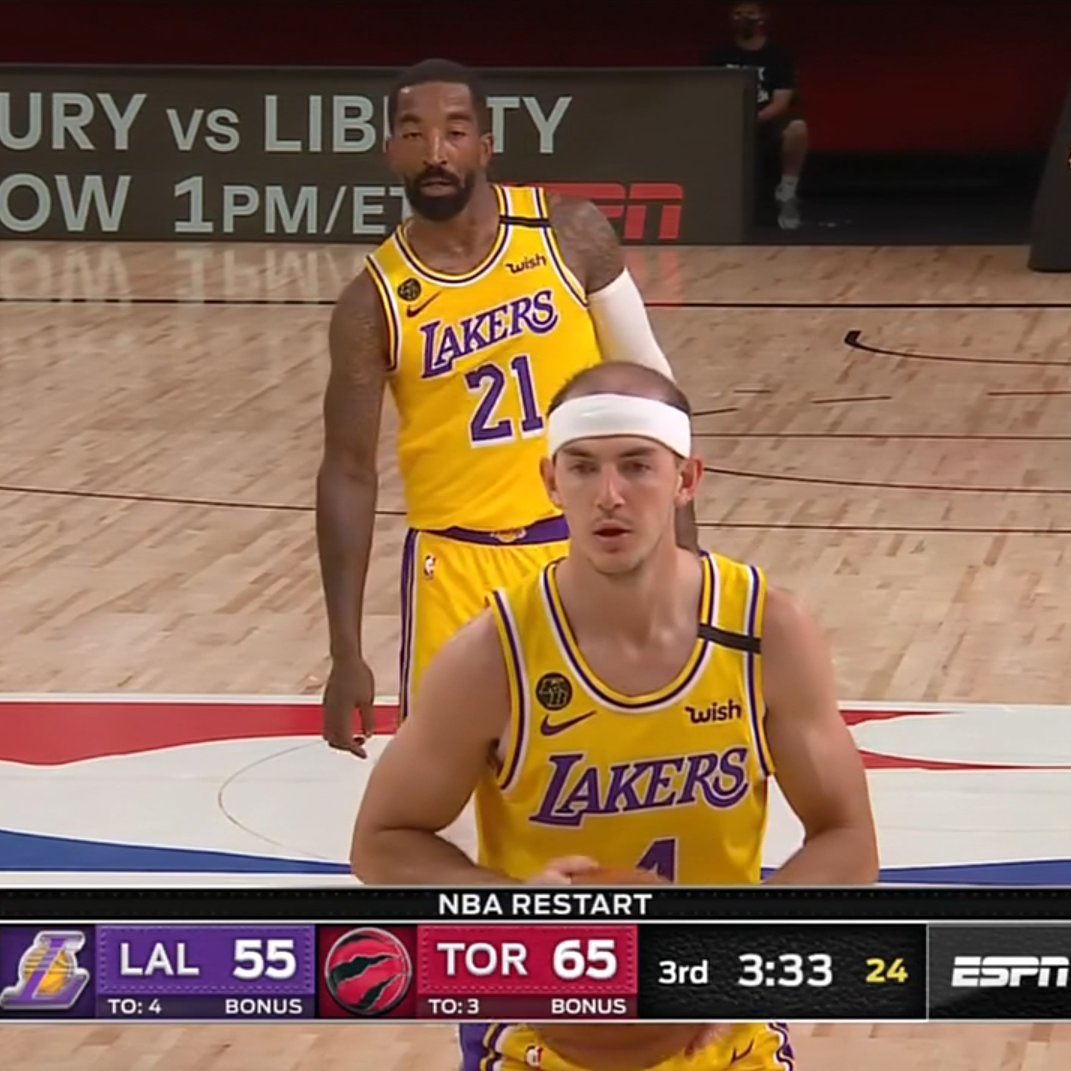 Meanwhile, the Clippers followed up their loss against the Lakers with a massive win against the Pelicans. Tough blow for New Orleans, but at least Zion will be well rested for the off-season. Imagine how disappointed Kawhi must be when his team wins while making 25 three-point shots, and then he can't actually celebrate with strippers. The Clippers are still really good, and will end up with either the #2 or #3 seed, but their chemistry is still a work in progress. They also look like a team that sometimes plays with the effort of a team that is in year 3 of a championship dynasty, when they have yet to win anything yet. That's a dangerous attitude for a team to play with around this time of year. Nevertheless, they should be getting Lou Williams and Montrezl Harrell back soon to try and build on that chemistry.
The Dodgers are rolling again after taking 3 of 4 against the D'Backs, and sweeping the Astros. It was also nice to see Clayton Kershaw looking good and throwing hard in his season debut. I'm highly annoyed that Joe Kelly was suspended though. Only Rob Manfred is dumb enough to give Kelly a greater punishment than the Astros' players that actually cheated the game. To me, Kelly performed in the sweet spot of hotheaded enough to make you think he's throwing at the Astros, and erratic enough to think he couldn't hit hit water if he fell out of a boat. After all, he wasn't even ejected from the game or warned, and baseball is a sport that has historically been about vigilante justice. Why would the Astros be surprised at Kelly's pitches? They cheat so they always know what's coming anyway. As far as I'm concerned, Kelly should get a statue in front of Dodger stadium, with an engraving in front of it that says "nice swing bitch." The man is a Dodger legend, even if he sucks for the rest of his time with the club.
Speaking of Rob Manfred, his incompetence knows no bounds. The Marlins are about to take down the entire season by themselves, and Manfred almost blew it letting the Phililes and Marlins play against each other before finding out more information. The man also has 0 PR skills, after saying "there is no reason" to quit on the season. Apparently somebody dying or ruining their career over the coronavirus isn't enough of a reason. Then he lead the way on these ridiculous in-season rule changes like expanded playoffs, 7-inning double headers, and putting a runner at 2nd base in extra innings. With all the postponements and rescheduling, the MLB schedule is just a sign-up sheet on the door of a rec center. Games might as well be to seven, shirts and skins, winner keeps the field. Can we get a baseball commissioner that actually knows what he's doing?
Meanwhile, the Angels still have the same issues they've had the last two years. No pitching, and a knack for leaving runners in scoring position. One week in and they already have the worst record in the AL. The Halos desperately need Shohei Ohtani to be an ace. Instead, he looks more like a joker, sporting an ERA of over 37 in less than 2 innings of work this season in two different starts. Now it sounds like his arm is going to fall off again. I know everybody wants to rag on the Halo's bullpen, but the team is lucky if they can get 5 innings from their starters. Getting Mike Trout back this week will help, but half the league is going to make the playoffs this year, yet it feels like the Angels are going to be eliminated from the race in the next week. This team needs a shot in the arm ASAP. The only way I see that coming is by calling up Jo Adell and giving him some at-bats. That's too hard for these small minded GM's who only seem to care about MLB service time though.
NFL training camps are about to open, and the Chargers made some big news last week. They signed Joey Bosa to a massive $135 million extension, with $102 million guaranteed. The Chargers are notoriously cheap, and don't pay anybody they really need to. So the one time they do actually pay somebody, it comes at the worst time. They tied up a whole bunch of money in Bosa when they had at least another year to pay him, and when the salary cap could come down by $20-$30 million due to the Coronavirus and not having fans in the stands. Just when you think the Chargers are becoming a different organization, they really are just the same old Chargers. On the bright side, the games without fans this year won't look any different than they normally do, because the Chargers don't get any fans to come to their games anyway.
Finally, this story about the PAC-12 players making demands is ridiculous. They've only got 12 players attaching their names to these demands, which include a split of revenue with the conference. While I completely understand that the NCAA is all about exploiting athletes and is super corrupt, the idea of making these demands in the middle of a pandemic is absurd. You're asking to share revenue in a year where a good portion of that money just to pay your scholarships won't even be there? This is why kids need to stay in school longer folks. I can sympathize with their demand of letting players opt out for health reasons while keeping their scholarship and having an extra year of eligibility, as well as more stringent health and safety protocols, but that's the extent of what it should be. By the way, ever notice that these demands never come from SEC players? That's because they are already getting money hand shakes from boosters and other dirty dealers. If the PAC-12 caved into these demands anyway, they would no longer be affiliated with the NCAA, which would only put them further behind in relevance compared to other conferences.