December 23, 2019
I read a headline on ESPN yesterday that actually said: "Lebron Not Managing His Load". The journalists that cover the NBA are severely underestimating the maturity level of their fan base. In all seriousness though, LBJ missing last night's game is no big deal, but he should take a few games off, even if it means we're going to be disappointed not seeing him on Christmas Day. The Laker losing streak isn't a big deal either. Meanwhile, Magic Johnson still can't shut up. He felt the need to tell the LA Times that the Lakers wouldn't be where they are today without him. Actually Magic, the Lakers are where they are today despite your stupidity. There's no way Magic had any idea who Josh Hart was when he was in college, and it's not terribly difficult to "evaluate talent" like Lonzo Ball when he is in your backyard playing Oregon on a Thursday night. Something tells me Magic wasn't exactly going to scout Colgate vs Monmoth in January, and it was his scouts doing that, and Pelinka doing the real roster manipulation. If anything, had Magic not been an idiot, Kawhi would be on this team with Lebron and AD, and the league would be over.
Meanwhile, Doc Rivers is talking trash about load management. Doc claims that the Lakers load management philosophy is "whatever Lebron says it is." That's funny Doc, but the Lakers aren't load managing at all, and it's really you that is load managing Kawhi because that's how Kawhi says it's going to be. However, it doesn't seem to matter how much Kawhi is load managing, because right now Giannis and the Bucks look like the best team in the NBA. Giannis isn't the same player Kawhi locked down in the playoffs last year, and he's suddenly making three-pointers like he's Reggie Miller. For now, the Lakers and Clippers might just be battling it out for 2nd place.
That was a spirited effort by the Rams on Saturday against the 49ers, but their playoff hopes got crushed like everyone's hope of Trump actually leaving office. I don't really subscribe to the theory that the Rams are done being competitive in the NFC, but this is definitely going to be looked at as a season of missed opportunities. The Rams should have handled business against the Bucs, Cowboys, and Seahawks on the road. Even if they win two of those games it's a different story. I'm also not sure what the weird dynamic between Sean McVay and Todd Gurley is. Gurley rarely touches the ball 20 times a game anymore, and it's like McVay got offended he was hitting on his fiance or something. Whatever the case is, these two guys better work it out before next season.
Then there's the Chargers, who are just a sad football team at this point. They lose to the Raiders, they have to rely on silent counts because they are basically playing a road game in their own stadium, and then Philip Rivers complains about how much the lack of support hurts. Melvin Gordon also re-iterated how tough it was to play in that stadium for the last 3 years. Don't worry Melvin, I don't think the Bolts are interested in paying you even $5 million next year, so you won't have to play in LA anymore. Even more ridiculous is the Chargers making a joke out of the Raiders leaving Oakland. Apparently when the Bolts left San Diego it was all business, but when the Raiders leave Oakland it's all one big joke.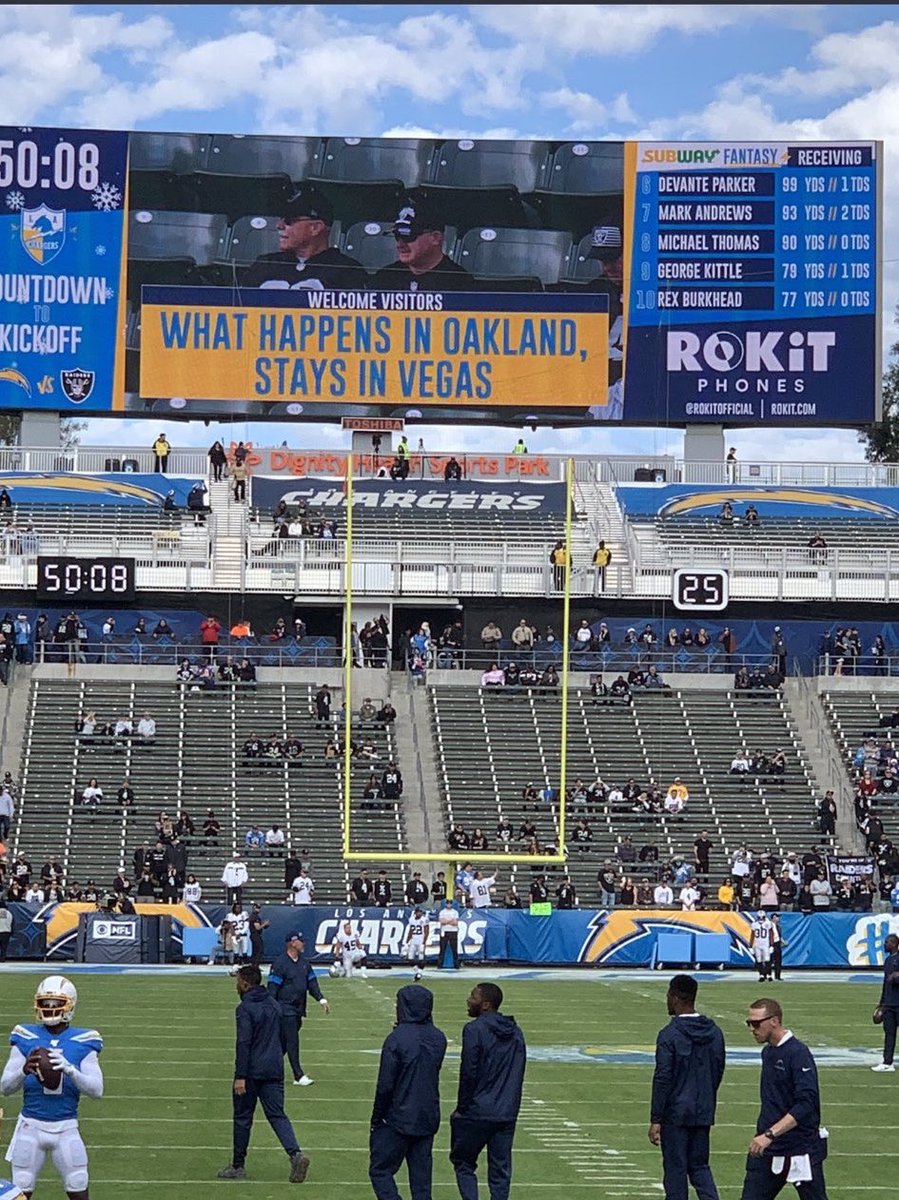 Elsewhere around the NFL in Week 15, Jameis Winston is the first quarterback to ever throw an interception during a commercial. Lamar Jackson is so good, at this point he's trolling people on the field.
With the Bengals clinching the #1 overall pick, every single draft eligible player has announced they are all returning to school. The Dolphins are so bad, they couldn't even tank properly this season. The Seahawks are about to hold tryouts with their fans for their starting running back position next week. Stay positive Cowboys fans you still have the Lakers and Yankees seasons to look forward to!
To baseball where the Dodgers have yet to do anything of significance to improve their club, and we are nearly at Christmas time. I did not expect the Dodgers to bring back Hyun Jin Ryu. However, I did expect them to do something to improve their bullpen, starting pitching, and their lineup to a lesser extent. I get it Andrew Friedman, you don't want to give out long term deals. However, you also don't like giving up high end prospects in trades. So in case nobody has told you, you can't improve your baseball team if you aren't willing to do either. I've been hearing names like Lindor, Clevinger, and Arrenado since the off-season ended, but I'm having a hard time seeing the Dodgers actually do anything because that has never been Friedman's style. Here's to hoping I'm wrong by the time you read this.
As for the Angels, they desperately need pitching and still haven't gotten it. No Cole, no Wheeler, Bumgarner, Keuchel, or Ryu. They probably needed two of those guys, and not Julio Teheran. I realize the Angels are paying for durability on their pitching staff, but maybe they can start paying for talent while they are at it. It's going to take some creative trades by the Halos to find some impact arms to help them get in the playoffs at this point. David Price seems like the best bet, especially with only 3 years left on his deal, and still performing at a reasonably high level.
Does anybody actually care that USC will be playing in the Holiday Bowl on Thursday? Anyone? Bueller? I guess we'll get the true answer on Thursday when no Trojan fans show up, or a bunch of angry ones. I hear Clay Helton is counting 7-on-7 workouts as real practices to claim that USC would have practiced 15 times in preparation for the game. The only thing worse than the people that run USC is the stadium this game is going to be played in. That's another reason why San Diego needs another new stadium. By the way, USC's recruiting class is now worse than Bowling Green's. Keeping Clay Helton is going really well so far guys.