December 2, 2019
Relax everybody. The Lakers were going to lose again at some point. Frankly, they only really played badly for one quarter yesterday that cost them. Yesterday's game also had that "fines all around after the game for ripping refs" feel to it. The officiating has been pretty bad league wide though. I'm not sure what the point of giving these refs replay is when they still get the calls wrong. The Lakers just need to clean up the consistency on defense, and get Kyle Kuzma going. I am getting really annoyed with people pretending like they have only played against WNBA teams, and haven't actually beaten good teams like the Mavs, Jazz, Suns, and Heat. Meanwhile Denver loses to Sacramento, and Houston loses to some tomato can and it's all good. We get it. The schedule gets tougher, but don't pretend like the Lake Show isn't a contender.
Then there's the Clippers who admittedly are good, but NBA Twitter fawns over them like they are the 1996 Chicago Bulls. The Spurs got some revenge on Kawhi on Friday, and Paul George was already in playoff form, shooting about 20% from the field. I'm still waiting for some solid media coverage about the Clippers without knocking the Lakers in the process, or trying to provide some lame Laker hater comparison. By the way, if you think the Lakers schedule is tough in December, you should see the Clippers schedule, which is littered with back-to-backs. Hopefully Kawhi puts his other part-time job on the back burner so he can actually play in those games and help the Clips.
To the NFL, where the Rams got back in the win column yesterday with a win over Arizona. Putting Blake Bortles in the game was like lighting up a human victory cigar. It was good to see Jared Goff and Todd Gurley get right because just 6 days earlier, Lamar Jackson burned the Sean McVay coaching tree to the ground. It was like watching Rams march to a slaughter house. The Rams look nothing like the Super Bowl contender of last year, but don't count them out of the playoff picture just yet. Minnesota's schedule isn't so easy, and they could still blow it.
Then there's the Chargers. Even for the Bolts, yesterday was a rough loss to the Broncos. They've now lost 8 games by 7 or fewer points, but have collectively outscored all their opponents this year. It's like when the 4th quarter rolls around, they start looking around for someone to give them the Heimlich maneuver. I've gotta hand it to them though. It had been a whole six days since they figured out a new way to lose. Charger games are like SAW movies. They are predictable and get more outrageous every time, to the point that they are almost comical. But I still can't look away. With all this talk about the Chargers moving on from Philip Rivers, I'm not sure how they can if they are moving into a new stadium next year. I realize he's been handing out interceptions like he's Oprah, but they are already pleading with people to buy PSL's next year. I'm sure they won't exactly be replacing Rivers with Tom Brady, so losing Rivers probably won't help their cause.
Elsewhere around Week 13 in the NFL, Jason Garrett has reportedly been put up for sale for $5 as part of a Black Friday special at Dallas WalMart. So far, no takers. That stiff arm on Matt Ryan put him back in grade school. If you see any Eagles players on the street, kindly pick them up and put them in a waste win. You see, the Eagles are trash. The Giants lost again, and Saquon Barkley is busy liking porn on social media. The Browns just lost to a QB named "Duck". America sleeps better when the Patriots lose. Enough said. Here's a live look at the NFC East standings.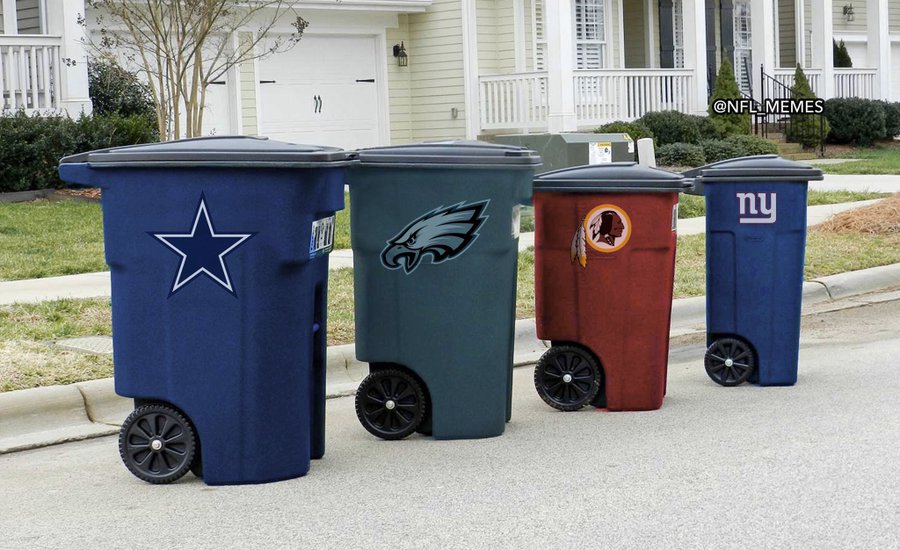 It's really nice to see USC is upset about apparently erroneous reports that Clay Helton should be fired. Perhaps they should be steamed over the fact that they are 13-11 in their last 24 games. I don't know whether or not Clay Helton is going to remain the USC Head Football Coach. But I do know that the University Leadership has already fumbled this process like a 4th string running back. The fact they have not provided any clarity one way or another spells indecisiveness and disaster. One could also argue that by not firing Helton, the school will lose about $200 million in donations from alums, while saving only $20 million to keep him. I'm already skeptical that this new leadership team will come up with an elite replacement if the job becomes available.
On the other side of town, for about five minutes Bruin fans got excited when they heard rumors that Chip Kelly and UCLA might mutually part ways. That unfortunately, was not true after Kelly refuted the rumors. In other words, you can expect one more year of this mess before both sides move on. My favorite part of the Chip Kelly era is when Chip was hired, UCLA fans were saying "imagine Chip's Oregon teams but with more talent?!" Then Chip went on to purge all that talent, replace them with walk-ons and 3-stars, & then tell us UCLA sucks because it doesn't have talent. Kelly has been so bad he should face a class action lawsuit for destroying a football program. Chip Kelly isn't even the Steve Alford of College Football. That's how bad it is. It's not going to get better for a while.
Speaking of UCLA, the basketball squad performed like we expected in Maui. They beat the second tier teams, and couldn't hang with anybody in the Top 25. I realize they put up a good fight against Michigan State for a while, but this team is what it is. I'm already severely questioning if they are going to make it to the NCAA tournament. On the other hand though, thank God for Bill Walton. While some of you hate him, you fail to realize that he is providing great entertainment value on the ESPN broadcasts. He might be the highest man on the planet, but he's a National treasurer and I hope he lives to about 150.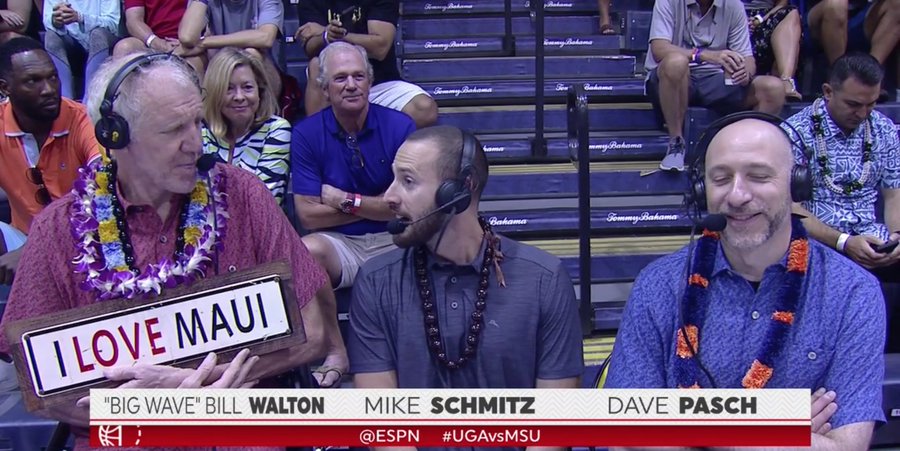 Finally, the baseball Hot Stove hasn't felt very hot this off-season for the Dodgers so far. I can't say I'm surprised though. Every day you can find some rumor connecting the Dodgers to names like Mookie Betts and Francisco Lindor. However, in reality, this is not what Andrew Friedman does. Friedman was probably shopping for some 99 cent reliever on Black Friday, and will probably look for some useless starter on Cyber Monday. As for the Angels, Mike Trout is like that woman you've been married to for years that's subtly telling you that you need to buy her something nice. Trout went on the MLB Radio Network last week and said he's waiting by the phone to hear the Halos made a big acquisition. Memo to Billy Eppler: dude is telling you to sign Gerrit Cole.