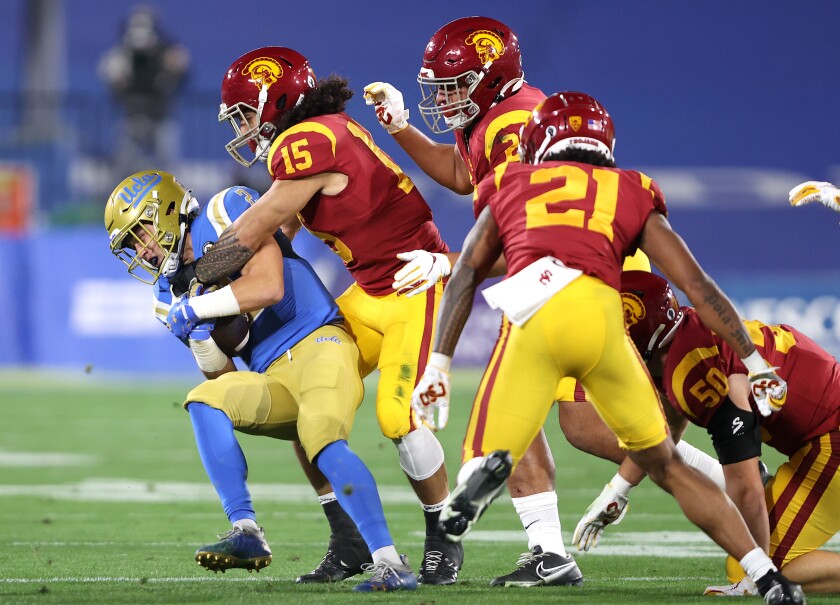 December 14, 2020
One one hand the USC-UCLA game on Saturday night was very exciting, and reminded us why it's one of the best rivalries in College Football. It was back and forth, it had amazing plays, and it had two teams that just didn't like each other. On the other hand, it was so symbolic of just how much the coaching is holding these two programs back. The Trojans have incredible talent with a coach who has no idea how to utilize it. Their offense is about as predictable as your computer getting a virus from downloading porn. Given the talent, this is mediocrity at best. The Trojans have been barely getting by against teams they should beat. As for the Bruins, they blew that lead as a result of poor play calling and a series of mental lapses. Those errors are the difference between this team being 6-0 vs 3-3. The turnovers in Colorado, the Hail Mary at the end of the half in Oregon, and every 4th and short vs USC showed this. When you pay Chip Kelly $24 million, you expect much better than that. It took a pandemic shortened season just to get this team to a respectable .500. That's the sad state of these two historical programs that deserve much better.
To the NBA, where the Lakers got the pre-season underway this weekend. I don't really like to draw too many conclusions from preseason play in any sport. However, I think it's fair to say that the Laker bench should be getting some heavy minutes for the first several weeks of the season. I don't want to see Lebron and AD do anything but get some light conditioning in against some scrub teams until Valentines Day. The team is good enough to collect some wins and stay in contention in the West while the their stars get much needed rest. Also promising is Talen Horton Tucker, who is only 20-years-old and looking like he could be solid contributor. I can see why he was overlooked in the draft. He's got a weird looking body, and looks like he was assembled from leftover parts of 7 different people. I would love to see them add Pau Gasol to the mix as well, which would be an awesome story. Pau has to get himself into shape though, since he hasn't played NBA ball in nearly two years.
As for the Clippers, they made headlines last week by signing Paul George to a massive extension worth $226 million. Getting that extension for shooting a three of the side of the backboard, and lying constantly in interviews is an inspirational story of people who fail upward. In all seriousness though, I'm going to give the Clippers credit for being smart here. This extension wasn't about the fact they love him and want to see him retire a Clipper. It's about retaining an asset they paid a kings ransom for, so they can potentially trade him for something down the line. PG is a talented player, who has shown that he is extremely mentally fragile in big moments, while lacking accountability. I'm pretty sure the front office knows this since they reportedly shopped him prior to signing him to the extension. I'd be shocked if he finishes that contract in LA.
To the NFL where the Rams lit up the Patriots like a Menorah on Thursday night at Sofi Stadium. If Cam Newton is going to rush for 171 yards and the defense is going to be lights out like that, I'm not worried about Jared Goff. Sean McVay now has four straight winning season in LA, which can't be taken for granted. The Rams have suddenly morphed into a physical team. They play stifling defense and are now running the ball with authority. McVay is also evolving as a coach. I'm sure it pained him to run the ball 30 times in one game against Belichick, but he did what he needed to do. Even more amazing is the idea that this same Patriots team dismantled the Chargers in the same stadium just four days earlier.
Speaking of the Chargers, their game against the Falcons was meaningless for both teams, but the real question is whether or not Anthony Lynn will be their coach moving forward. One man who is extremely plugged in to the Chargers is my man Scott Kaplan, who now has an evening show on ESPN Radio 710. He also covered the team for many years in San Diego. According to Scott, he fully expects the team to retain Lynn, not only until the end of the season, but next season as well. Dean Spanos isn't the kind of guy to go pay $10 million for a coach. He's also not a "win at all costs" kind of guy. Considering he just gave Lynn an extension through next season, Spanos would rather contract COVID-19 than have to pay two coaches at the same time. That makes you think the Bolts are going to be locked into mediocrity, in a city that doesn't really care about them for a long time to come.
Elsewhere around week 14 of the NFL, Josh Jacobs told us he doesn't care about our fantasy football team, but I guess nobody told him those fantasy owners don't care that the Raiders lost to the Colts. Mitch Trubisky turned into Patrick Mahomes against the Texans, which is typical for 2020. The Vikings lost to the Bucs, and Kirk Cousins doesn't like that. It turns out Daniel Jones is just as bad on one leg as he his with two healthy legs as the Giants got beat by the Cardinals. The Jaguars are streaking! And by streaking I mean they've lost 12 straight after losing to the Titans. The Dolphins lost to the Chiefs, and Miami is going to need to hold tryouts with their fans with all the injuries they have. Watching the Bengals and Cowboys without their starting QB's is like going to Ruth Chris with them being out of steaks. The Seahawks beat up on the Jets, and I haven't seen the Jets look this foolish since last week. AJ Brown is not human…..
UCLA Basketball is now 5-0 after taking down Marquette on Friday night at Pauley Pavilion. That's 5 straight wins for the Bruins. Every game they've played since Mick Cronin took over is an emotional rollercoaster. The first 8 minutes you ask yourself "what the hell is this team doing?" The next 10 minutes you couldn't be more excited about the potential. The last 2 minutes you find yourself saying "what the hell? Ok, good we got the win!" I guess that's why Mick Cronin is more consistent than A Few Good Men on a rainy Sunday. You get the emotional ups and downs, but more often than not you get wins. This team is getting healthier, and slowly getting better. The Bruins also now have the Jordan Brand to replace Under Armour. Some will say that they will lose recruits because of this. However, I say they lost recruits because of Steve Alford. This can't be any worse.
In baseball, it's been a very slow off-season so far, but the Angels have been apparently trying to make news. The Halos were reportedly in the mix for James McCann, but "lost out" to the Mets. I'm not sure whether Angel fans should be happy about the fact they didn't get this guy, or concerned about the fact they were willing to offer a career .249 hitter a contract worth $30 million. The Halos need to put every dollar they can afford to spend at this point into their starting pitching. They need at least two, and arguably three starters, and at least one of those could be had for $10 million. I'm almost dreading to see what moves actually happen just knowing what the Angels were pursuing, but only time will reveal this disaster.
Finally, the The Bachelorette is returning for back-to-back nights beginning tonight on ABC. Looks like the producers needed more practice controlling the lie detector test, as I'm pretty sure it wasn't working once dudes were lying about their real name. Who the hell let Bennet back on the property? That guys has some real Ted Bundy vibes. Netflix is going to cast him as the lead guy in the next season of "You". I have no idea what Riley shared. I would have an easier time understanding Chinese. I think ABC just spoiled things by showing Noah at "The Men Tell All", meaning he's probably not getting a rose. My biggest issue with Brendan , is that he takes like TEN FREAKING MINUTES to say a SINGLE FREAKING SENTENCE. The next two nights should be entertaining. I love how the producers really used a screen saver and tried to pass it off like it was an EKG for the lie detector.