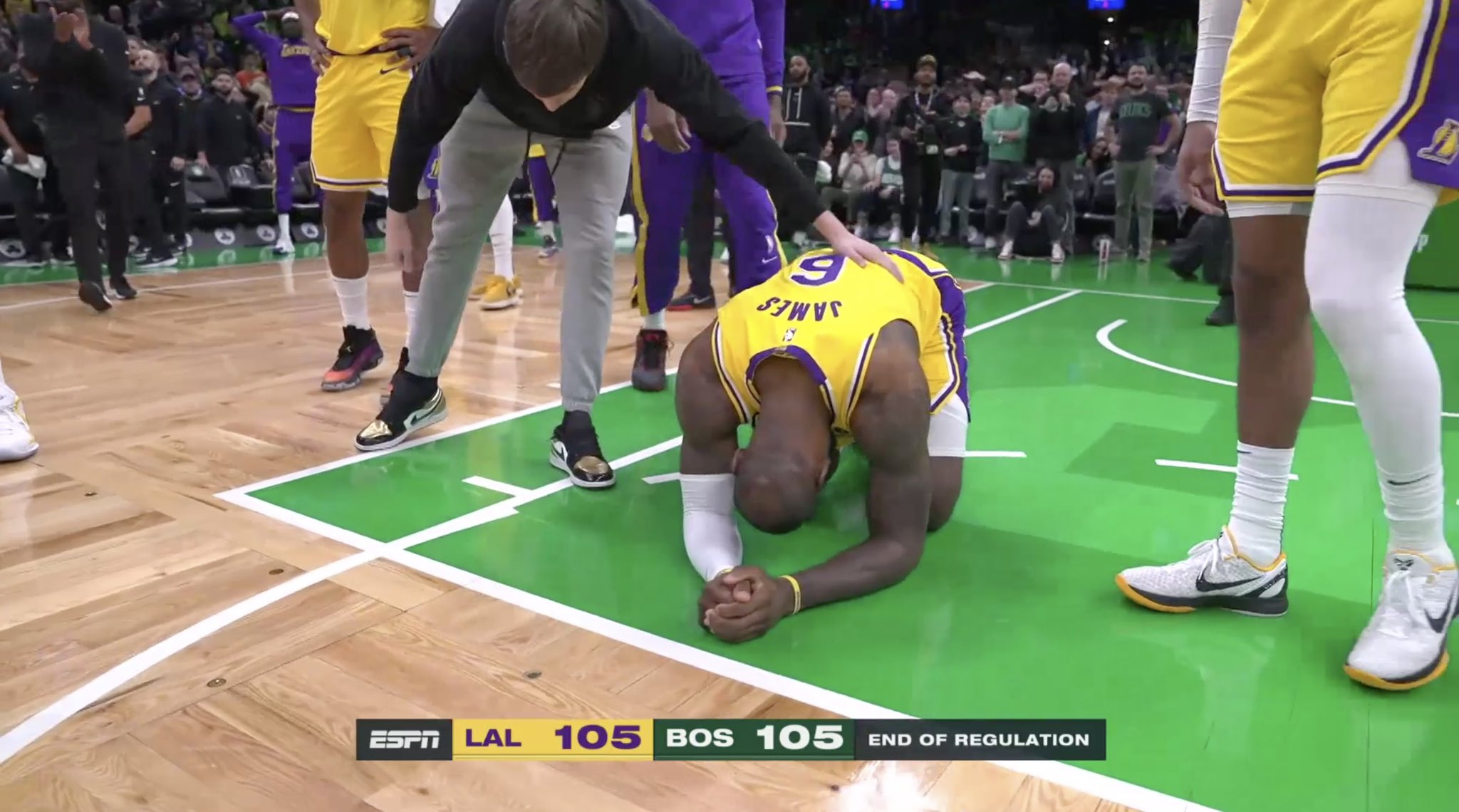 Long ago I came to the realization that NBA refs were the worst in sports. The reason is because they are by far the least consistent. It could be a foul in the 1st quarter but not in the 4th. That was on full display Saturday night in Boston where the Lakers got screwed. It wasn't just the Lebron call at the end of regulation. There were 4 or 5 calls they got hosed on. To make matters worse, they have really gotten screwed the last few weeks in these critical moments. According to NBA Twitter, Laker fans aren't allowed to be upset because every team in the league gets screwed on four crucial calls on the last play of the game in a two-week span. There's bad, and then there's this. This is the difference between the Lakers being in 13th in the West vs 4th. I normally don't like to complain about officiating like this. I'd much rather be talking about the Rui Hachimura trade and how it was a solid move by Rob Pelinka. However, this has been insane, and because of it the Lakers will have to play about .700 ball the rest of the way to make the playoffs.
Meanwhile, the Clippers have won 5 of their last 6 games, and jumped back up to 4 in the West. Now comes the annual "will they trade for a point guard" rumors. We've been hearing this for a few years, but the team has never really found the one guy that can be a playmaker and take that load off of Kawhi and Paul George. There's been a lot of talk about Fred VanVleet too, but this isn't 2019, and it's not even 2022. VanVleet this year, hasn't been the same player he was that got him paid. He's also not a playmaking point guard. He's a shooter. Unless he's entering a Time Machine, I don't see how this is a good trade for most teams, including the Clippers, given the cost to acquire him. It's probably worth noting too that he switched agents and is moving to Klutch Sports, which isn't a good thing if you're a Laker fan who isn't a fan of this move.
To the NFL, where Championship Sunday went down yesterday. Congrats to the Eagles on advancing to the Super Bowl and destroying their city in the process. Philly was easily the best team all around in the NFC this year, so they deserve to be here. I'm surprised Kyle Shannahan didn't resort to having Christian McCaffrey or Deebo Samuel run the wild cat when he discovered he was out of QBs that could throw the ball down the field. Let's not pretend Rams fans aren't getting a kick out of the San Francisco loss, with everyone reacting like the Niners won the Super Bowl after every regular season win. Then there's the AFC matchup that was fun to watch. Gotta give it up for Patrick Mahomes and doing what he did on one leg. Joe Burrow probably outplayed him, but the Chiefs hung around long enough to make a few more big plays at the end. It's also unfortunate that the late hit is what ended the Bengals season and what otherwise was a great game. Those two teams look like real rivals now that will be back at it again the next few years.
To baseball where the Angels, and the MLB for that matter, got some very bad news last week. Arte Moreno is going to remain the Halos owner for what appears to be at least the next few seasons. This stinks. The Angels were poised to get new ownership with deeper pockets to build out a more modern and competent organizational infrastructure. Instead, they are stuck with a guy who doesn't get the importance of investing in scouting and development, and who ultimately, can't outspend the big market teams. This also means that Shohei Ohtani is likely a goner after this season. Mike Trout probably can't feel great about this either, but he's probably not looking for a trade at least yet.
Congrats to local NBC 4 legend Fred Roggin on an amazing 40 years as a sports anchor. Roggin had his last day at NBC last Thursday. Since the day I was born, Roggin has been the local guy at NBC, and always a pleasure to listen to. Even when he had the opportunity to jump ship to ESPN, or other opportunities to cater to those who didn't watch the 11 pm news, he stayed true to his local following. He'll still be heard on local radio on AM 570 and explore other TV opportunities. Nevertheless, he's made his mark on the LA sports media market.
Finally, no need to panic about UCLA basketball losing two in a row. They are halfway though the PAC—12 schedule and still in great position for one of the top 2 seeds in the NCAA Tournament. However, they do need to clean up things, and those can easily be fixed internally. Stop turning the ball over for starters. Get Amari Bailey more involved and comfortable starting, while getting David Singleton back in his 6th man role. They also need to get Jaylen Clark going again, who is shooting like Russell Westbrook these days. It's about peaking at the right time, and there is still time to do so.