January 13, 2020
You guys still want to trade Amber Rose…..I mean Kyle Kuzma? Kuz has been balling since the trade rumors started, but most of you Laker fans have the patience of a 5-year old. You can't trade a guy with that much potential for spare parts, which is the only thing he can bring back at the moment. Meanwhile, Lebron played Friday's game against the Mavericks like Luka Doncic was hitting on his wife. I wish Lebron would take these games against Kawhi and the Clippers that personal, because he's going to need to for the Lake Show to beat them. Anybody still think Rob Pelinka doesn't know what he's doing? Congrats to him for getting a promotion and an extension despite having to deal with Magic Johnson, who probably didn't even know how to turn his computer on in the Laker front office. I love seeing Alex Caruso being 6th in All-Star voting for West guards. For any player that has a problem with it, I suggest you call your agent and demand a trade to the Lakers.
Meanwhile, the Clippers are acting like they are in the 3rd year of a championship run with the way they are not showing up against crummy teams. It's like they have a championship hangover without the championship, and without the alcohol. It shouldn't take Paul George and Kawhi Leonard to beat the Grizzlies, and even without them, they should have handled the Warriors and Knicks easily. Instead, it was a struggle. Apparently this team only shows up to play against the Lakers. That's great, except they don't get to play the Lakers 82 times a year. Ironically, the Clips don't matchup as well with everybody else as they matchup with the Lakers. Nevertheless, if they don't start bringing it against everybody else, we might not get to see Lakers v Clippers in the playoffs like we all hope to.
To the NFL where the Houston Texans need to start cheating like the Astros to win in the playoffs. The Falcons blew a 28-3 lead in a half, but the Texans said "hold my beer" and blew a 24-0 lead in one quarter. Pete Caroll must have been shocked to learn that Marshawn Lynch could score from the one yard line, and we were shocked to learn he punted to Aaron Rogers down 5 with 2:50 left. The Ravens lost as well, which is the worst thing to happen to the franchise since they erected a statue of a murderer. The 49ers won again, and Bill Belichick is going to drown himself in the Boston Harbor if Jimmy G makes it to the Super Bowl. This Packers lineman is actually wearing a thong!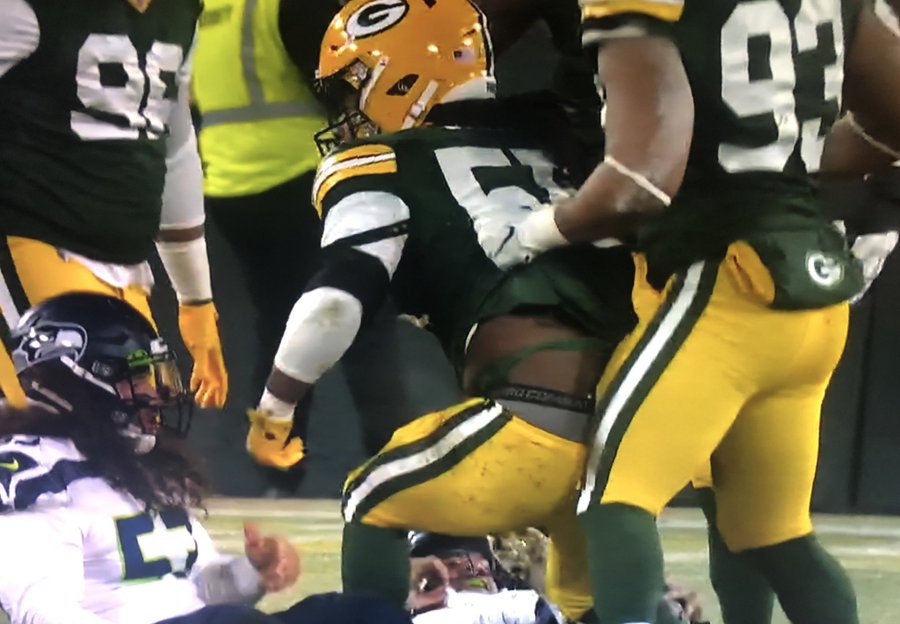 Somebody neesds to take Keenan Allen's Twitter account away from him. He didn't seem to realize that Mike McCarthy didn't coach the Packers anymore when the Cowboys hired him. You you would think someone with as much time on his hands would know what's going on in the NFL. Then again, he might have been doing some day drinking.
It's going from bad to worse for UCLA Basketball. They've lost 5 of their lat 6 games, and are already near the bottom of the PAC-12 after losing to USC. The Bruins are just 8-8, and they are scoring less than a pimple faced high schooler on Prom night. There is no elite scorer on this team, and defensively can only take them so far. I have no idea how good of a coach Mick Cronin is yes, but I sure hope he has the ability to recruit, because he will need to in order to get Bruin basketball back to a respectable level. UCLA should never lose to USC in basketball, let alone on their home floor. It's going to be a rough couple of months ahead.
We are exactly a month away from pitchers and catchers reporting to spring training and the Dodgers haven't done crap in the offseason. They should change their name to "The Bears" since their front office goes into hibernation during the winter. The worst part is that Stan Kasten is claiming that they will surpass the luxury tax this year. The Dodgers are about $25 million away from the tax, which tells me that they will be spending money on some very mediocre players left in free agency if they plan on spending that much more. Then again, they signed a mediocre player yesterday in Alex Wood, so maybe I shouldn't be all the surprised. Nolan Arrenado, Kris Bryant, Francisco Lindor, and Mookie Betts are all available, the Dodgers have the assets to get one, yet they don't want to do anything to make their club better. This front office is pathetic.
Then there's the Angels, who are really going to go into another season without any pitching. The Halos blew all their money on Anthony Rendon, which is nice and all, but it's like buying a nice car when you need fix your roof. The Halos need to hope that Shohei Ohtani turns into Nolan Ryan and that he can stay healthy. Otherwise, you can count on the Astros running over them again in the division, and another wasted year of Mike Trout.
Every time I hear about the LA Kings these days, all I hear about is how they will be good in two years when their young prospects arrive in the NHL. I'd feel pretty good about that if it wasn't Rob Blake who drafted them. Blake's coach hiring decisions have been uninspiring, his free agent signings have been disastrous, and he's made 15 trades that have resulted in almost no current NHL players. That's tough to get excited about. Now the trade deadline is coming up, and he's sure to not move any of the veterans on the roster that are expensive, and have some value left.
Finally, The Bachelor is back! Another season of this train wreck television show you can't stop watching. This time it's Peter Weber who is The Bachelor this season. I love how Hannah Brown walked into Peter's group date to remind all the women that she had sex with him 4 times in a windmill. There's nothing quite like watching 30 women cry over a man they've known for 48 hours. Then again, what do you expect from a group that largely thought the cow that appeared on the show was a horse. I guess it wouldn't be The Bachelor without that and hearing about a childhood trauma, which in this season is some woman who had a traumatic experience riding the teacups. Anybody else mad that Kelly cheated on the obstacle course? Victoria F modeled for a company called "White Lives Matter". Where do they find these people? You clearly have to be abnormal to be on the show, otherwise it's not happening. In any case, looking forward to seeing where it goes from here this season.